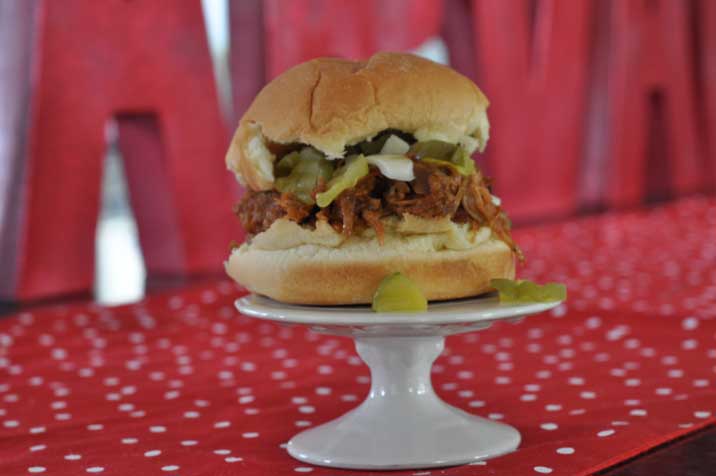 Well, I finally got around to having Miss G.'s high school graduation/ going away party. I so admire those organized people that get it done right away in June. That wasn't happening for me…nor was July. I did think we should have the party before she actually left for college, so we had it this past weekend. So, the cakes had a little accident in the car, and perhaps I the person in charge didn't get all of the appetizers made or the decorations up, perhaps the great idea for a popcorn bar with cones made out of collegiate paper displayed in my Farm Chicks bedspring purchase didn't come to fruition and the floor didn't get mopped….it was wonderful to be surrounded by all of the amazing people that have made a difference, big and small, in my daughter's life and thank them for their influence. I do hope they got enough to eat!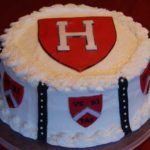 So, the following is the menu; a combination of Miss G's favorite things and easy things for me to make! Everyone loves pulled pork and it is extremely easy to make. I actually left out the paprika because I didn't have any and it still tasted like pig heaven. I like to serve it with buns, coleslaw, pickles and onions. I did kind of over do it on the pasta salads. I could feed a small nation with all the pesto pea pasta salad left over. One mistake I will not make again is baking the pies a few days ahead of time and freezing them. It would have been better to freeze them unbaked and then bake them closer to the party. Live and learn. I am going to indicate quantities just so I remember how much to make when Mr. D graduates.
Perfect Pulled Pork
stolen from my lovely talented friend Lynn Schilaty
Ingredients:
(1) 5-8 pound

pork shoulder/ boston butt

3 T.

paprika

1 T.

garlic powder

1 T.

dry mustard

1 T. (I use 2 – 3)

brown sugar

3 T.

coarse salt

1 bottle

beer
Cooking Directions:
Mix rub together.
Rub on pork. Marinate overnight if you have the time. I never do and it turns out fine.
Roast with a bottle of beer poured in pan at 300 degrees for 3-6 hours.
It will be fork tender when done.
Shred, discard fat and mix with your favorite barbeque sauce. Lynn swears by KC Masterpiece….