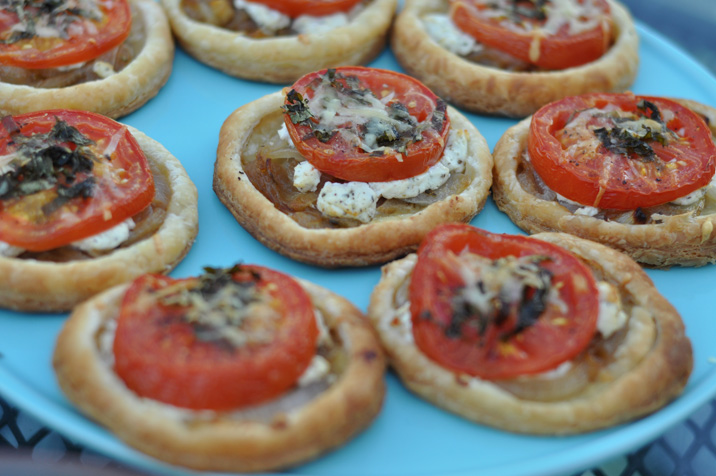 Some tennis ladies came over a few weeks ago and we tried out Ina's tomato and goat cheese tarts after a vigorous game of doubles. After so much energy expended we were in tremendous need of replenishment and these were pretty perfect.  Not too heavy, they would make a great appetizer. Plus, the base of them is puff pastry.  I adore anything made with puff pastry. I found the recipe in Ina's Back to Basics cookbook.  I modified the size from 6″ to 4″ to make them a little more managable and appetizerish. Delicious!
Tomato and Goat Cheese Tarts
Ingredients:
1 package (17.3 oz/ 2 sheets)

puff pastry

4 cups

onions, thinly sliced

3 large

garlic cloves, cut into thin slivers

kosher salt

and pepper

3 T.

dry white wine

2 t.

fresh thyme, minced

8 T./ 8 large pinchfuls

parmesan cheese, freshly grated

8 oz.

garlic and herb goat cheese

2 large

tomato, cut into (8) 1/4 inch slices

8 T.

basil, julienned
Cooking Directions:
Roll out each puff pastry sheet to 11 inches by 11 inches and cut out (4) 4 inch circles in each one. Try to figure out something to do with the scraps because you will have them.
Place the pastry circles on parchment paper on 2 baking sheets and refrigerate until ready to use.
Saute onions and garlic in 3 T. of olive oil over medium heat for 15 to 20 minutes. The onions should be very limp. Add 1/2 t. salt, 1/4 t. pepper, wine, and thyme and cook for another 10 minutes.
Score a 1/4 inch wide border around each pastry circle and prick the pastry inside the scored line with the tines of a fork. Sprinkle a tablespoon of parmesan on each round within the inner circle.
Place one-eighth of onion mixture on each round within the inner circle. Crumble 1 oz. of goat cheese on top of the onions. Place 1 tomato slice on top of the goat cheese. Brush the tomato lightly with olive oil and sprinkle with salt and pepper and basil. Top it off with a large pinchful of parmesan.
Bake for 15-20 minutes at 425 degrees until golden brown. Serve hot or warm or even room temp was good!
Enjoy!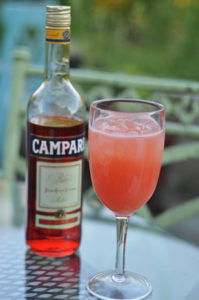 Rita, who also worships Ina, made us Ina's campari orange spritzer from the same cookbook.  They were very refreshing, but none of us realized that campari tastes like grapefruit – so, they were a little more bitter than sweet.  If you like a grapefruit, this is the drink for you.
Campari and Orange Spritzer (for each drink)
Ingredients:
6

ice cubes

1/4 cup

campari

1/2 cup

orange juice

1 1/2 cups

sparkling water, such as san pellegrino

sliced

oranges
Cooking Directions:
Put everything in a glass in the order listed.
Enjoy!