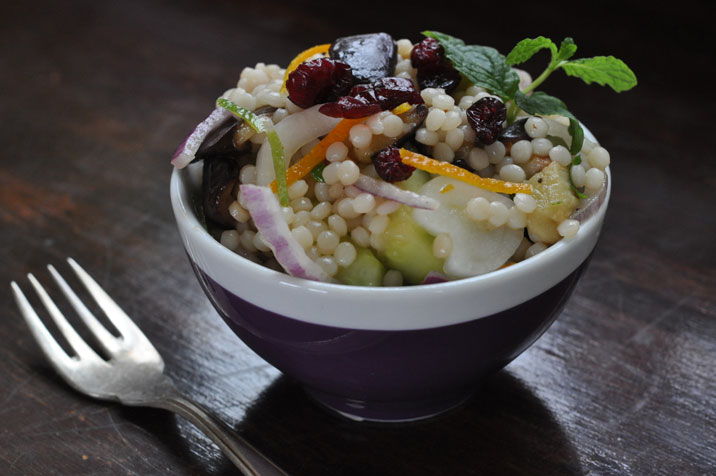 Today is dreary, chilly and rainy – autumn has definitely arrived in Western Washington.
I found Israeli pearl couscous at the grocery store today. It looked interesting so I thought I would make a salad with it. Israeli pearl couscous is actually a lot bigger than regular couscous and more like a small pearl sized pasta.  I wanted a salad that was autumn-y, yet sunny. I think this one fits the bill and the kids even like the roasted eggplant in it. Orzo would be a good substitute if you can't find Israeli couscous in your area. Feta and toasted pine nuts would also hearty it up, if desired.
Autumn Israeli Couscous Salad
Ingredients:
1 box (8.8 oz) about 1-2/3 cups uncooked

Israeli Pearl Couscous or Orzo

1/4 to 1/2 of a

red onion, medum diced

1

eggplant, 1/4 inch slices plus 1 garlic clove

1/2

english cucumber, peeled, seeded and medium diced

1/4-1/2 cup

craisins

1-2 t.

lime zest

1-2 t.

orange zest

juice of

1 orange

juice of

1 lemon

3-4 T.

olive oil

salt

to taste

2 t.

brown sugar

1/4 cup

chiffonaded mint
Cooking Directions:
Prepare eggplant: Salt each side of eggplant slices, let sit for about an hour. Wipe off moisture. Cut into cubes and toss with olive oil to coat and minced garlic clove. Spread on baking sheet and roast in 400 degree oven until browned for about 20 minutes, turning as necessary. Let cool.
Prepare pearl couscous per box instructions, drain and run under cold water to chill.
Add roasted eggplant and all the remaining ingredients. Mix well. Season with salt to taste.
Enjoy!