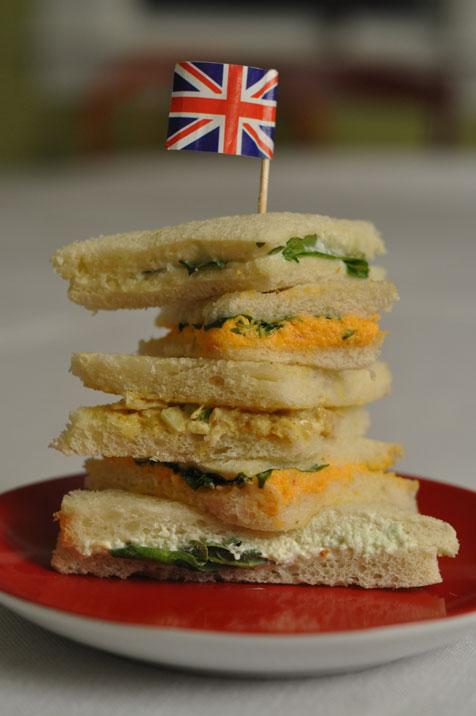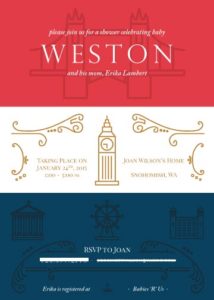 My niece Erika is having a baby, so a few weeks ago I threw her a baby shower. A big baby shower. Around sixty people showed up for the English tea party themed celebration.  She's decorating baby Weston's nursery with a London theme, so an English tea party seemed very apropos. Her very talented graphic designer sister, Alexa, designed (and mailed – thank Goodness) brilliant London themed invites. I am always thankful to host an event every so often as it is vital to the sanitary condition of my house ; it makes me clean….it makes me clean, thoroughly!
I started baking a couple of days ahead of time and froze ahead what I could. I definitely had enough for 60 people, perhaps even 70 or 80, and I didn't even make all that I had planned.  A fun resource for all things english tea party is downtonabbeycooks.com. For decorations I  bought  twenty 4″x6″ British flags, removed the sticks and sewed them to red double fold bias tape for a festive garland, used british toothpick flags to hold the sandwiches together, union jack  and royal guard napkins and plenty of tea pots.
Here was my menu for the day:
Tea Sandwiches:
Pimeneto Cheese and Arugula Sandwiches
Benedictine Cucumber Sandwiches
Egg Salad Sandwiches
Coronation Chicken Sandwiches
Open faced Tomato Pesto with Bacon Sandwiches
Savory Nibbles
Mushroom Turnovers
Tomato Tart
Spinach Balls
Cheese Boxes
Tea Cakes:
Blackberry Jam Cake
Lemon Drizzle Cake
Apricot Glazed Pound Cake
Sweet Nibbles:
Scones with Strawberry Jam
Shortbread
Today I'll share the sandwich recipes with you. With the exception of the open faced tomato pesto sandwiches, I used buttermilk white bread from Costco. I didn't keep exact count of how many sandwiches I made. I used approximately half of the pimento cheese and cucumber fillings and three quarters of the chicken filling and still had leftover sandwiches. The egg salad ran out, so next time I will double the amount. Of course, I cut off the crusts of the sandwiches to fancify them and cut them into different shapes, i.e. some were little triangles and others rectangles.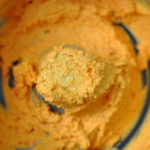 I am fascinated with all things southern. Who knows why….perhaps it was my birth and first years of life in Meridian, Mississippi? What's not to like about a culture where sweet tea is the norm? So, when I was thinking up fillings for my English tea sandwiches I immediately thought of pimento cheese, a sandwich staple of the south. I love my Southern Foodways Alliance Community Cookbook that I got in Oxford, Mississippi while on our Tennessee College Road trip, so I used a recipe out it. I had never actually tried pimento cheese, so now was my chance.  I like it. I made way too much of it by doubling the recipe, but I like it. I served it spread over the white bread with baby arugula on top. Colorful and cheesy!
Great Aunt Ellas Pimento Cheese
adapted from The Southern Foodway Alliance Community Cookbook
Ingredients:
20 oz. (about 5 cups)

cheddar cheese, grated

1 (4 oz.) jar

whole pimentos, drained

1/2 cup – 1 cup, divided

best foods mayonnaise

1/4 t.

onion powder

1/4 t.

ground cayenne pepper

1/4 t.

worcestershire sauce

pinch of

sugar
Cooking Directions:
Pulse the cheese and pimentos together in a food processor until pimentos finely chopped.
Add 1/2 cup mayonnaise and pulse to combine.
Add the onion powder, cayenne, Worcestershire and sugar and pulse to mix until smooth.
The pimento cheese should be a solid color; the pimentos don't show. It should be the consistency of thick paste, but if it is too dry, add more mayonnaise and pulse to combine.
Makes 3 cups.
From the same Southern Food Alliance Community Cookbook I got the recipe for Benedictine Spread, a mainstay of Louisville, Kentucky parties. It's a cucumber spread and is often paired up on sandwiches with bacon.
Benedictine Spread
adapted from The Southern Foodways Alliance Community Cookbook
Ingredients:
1 large

cucumber, peeled, seeded, and grated

10 oz.

cream cheese, at room temp

2 T.

grated onion

coarse

sea salt

ground

black pepper
Cooking Directions:
Drain the cucumbers in a colander set over a bowl in a refrigerator for about 2 hours.
Discard the liquid and transfer the cukes to a food processor.
Pulse with the cream cheese and onion to combine.
Season with salt and pepper.
Cover a refrigerate at least 1 hour before serving. Great for finger sandwiches.
Makes about 2 cups.
I love egg salad sandwiches and so, apparently, did the ladies…..they devoured them! Next time, I will double the recipe.
Egg Salad for tea sandwiches
Ingredients:
14

eggs, hardboiled and peeled

1 cup plus more as needed

best foods mayonnaise

1/4 cup

fresh dill, chopped

1/8 cup

chives, chopped

1/8 cup

capers, chopped (optional)

1/8 cup

sweet pickles, finely chopped (optional – I didn't add this time)

Salt and Pepper

to taste
Cooking Directions:
Smash up eggs with the tines of a fork (or any way you like to do it).
Add the mayo gradually until you have the consistency you like. Add more mayo if it is too dry.
Mix in the chives, dill, capers and pickles. Feel free to adjust the amounts to your taste – nothing is sacred here.
Salt and Pepper to taste.
You have to have some coronation chicken salad at a tea party. Delicious!
Coronation Chicken Salad for a lot tea sandwiches
Ingredients:
4 cups

chicken breasts, cooked and chopped into small chunks

1 1/2 cups

best foods mayonnaise

2 T.

curry powder

1/2 cup

Major Greys mango chutney

1 cup

celery, diced
Cooking Directions:
Here is a reminder….buy your chicken breasts with the skin on and bake with a little oil and salt and pepper for the juiciest chicken salad meat.
Mix together the chicken, celery, mayo, curry powder and chutney. All of the amounts can be adjusted per your palate. I like a lot of curry powder.
Refrigerate.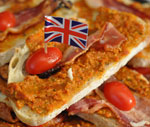 Late last year I discovered Cibo Naturals Sundried Tomato Pesto with basil. This stuff is amazingly delicious, so I thought I'd make some open-faced sandwiches of pugliese bread slices spread with the tomato pesto and topped with a slice of bacon and cherry tomato half secured with a British flag. Okay, maybe a more Italian themed sandwich, but delicious and adorable, right? So, imagine my horror when I went to Costco and there was no tomato pesto. Luckily, I had an old jar of it in the fridge so I could see the ingredients….So, I'm sure this is not an exact replication, but I was pretty pleased with it and it tasted good.
Tomato Pesto
Ingredients:
2 1/2 cups

sundried tomatoes packed in oil (I used the Costco kind), do no drain the oil

2

red pepper, seeded and chopped up

3/8 cup

basil, chopped

1/2 cup

almonds

3

garlic cloves, minced

1 T.

balsamic vinegar

1 t. plus more as needed

salt

pepper

to taste

olive oil

as needed ( I did not need any)
Cooking Directions:
In a food processor, blend together tomatoes, red peppers, basil, almonds, garlic and vinegar until you have a smooth paste about the consistency of basil pesto. Add salt to taste.
You can add some olive oil if it is too dry…I did not need to using the Costco sundried tomatoes packed in oil.