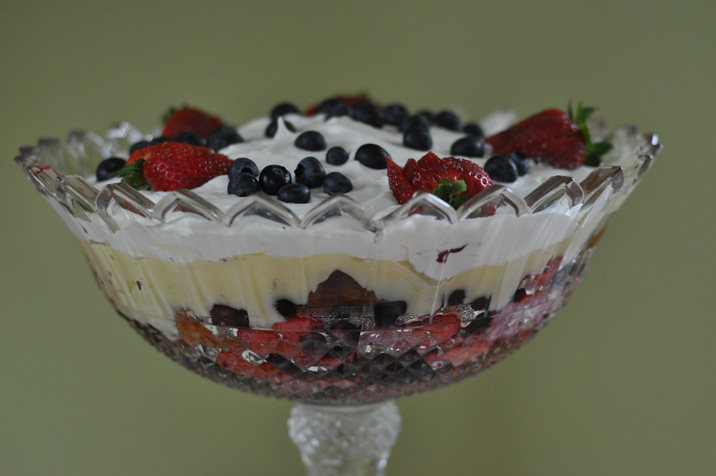 We wrapped up Tuesday night ladies' tennis a couple of weeks ago by playing a little tennis and trying out the tomato pie and berry pudding trifle. Thumbs up from the tennis ladies (I think…) on both dishes. This berry pudding trifle pudding was inspired by a recipe I found in a British magazine called Great British Food.  The magazine is big and glossy and full of good looking food and there are a lot of interesting recipes I'd like to try in it.   I hope you like it! For you northwesterners I found the brioche at Central Market in Mill Creek.
Berry Pudding Trifle
Ingredients:
3/4 cup/ 1 cup

sugar

2 T.

cornstarch

1/8 t.

salt

2 cups

half and half

4 large

egg yolks, beaten

2 T.

butter, cut into pieces

1 1/2 t.

vanilla

3-4 pounds

mixed berries (I used strawberries and blueberries), save some for garnishing

3 T.

water or cassis (I used water)

approx. 8 slice maybe more maybe less

brioche bread slices (depending on the size of your bowl)

1 -2 cups

whipping cream, whipped with 1-2 t. vanilla and 1-2 T. sugar
Cooking Directions:
Make custard: Combine 3/4 cup sugar cornstarch and salt in a medium saucepan. Gradually whisk in half and half, yolks and butter while bringing to a boil over medium heat. Boil for one minute, the remove from heat and stir in 1 1/2 t. vanilla. Chill.
Bring the berries and 1 cup of sugar and water (or cassis) to a boil and cook for 2-3 minutes until the fruit is just soft. Cool and drain the mixture saving the juice.
Place one half of the berries in the bottom of a trifle dish.Soak the brioche in the berry juice and place a layer of bread on top of the berries. Cover with another layer of berries and then another layer of soaked brioche. Let stand for ten minutes.
Top with the custard and then the whipped cream. Garnish with the extra berries.
Chill for 1-2 hours before serving.
Enjoy!