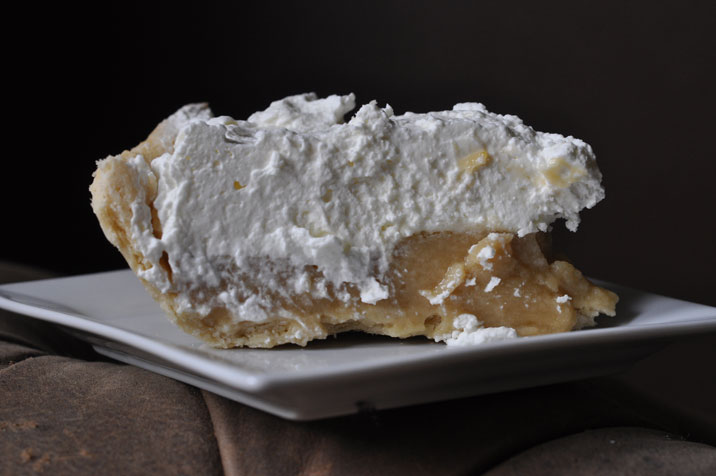 I made this butterscotch pie the other day and it was totally scrumptious. I tried to take a different type of picture with this pie…a little moody, don't you think?
I'm attending my first food blogger conference in September, the International Food Blogger Conference. Conveniently, it's in Seattle this year. Anyways, this past week there was a google plus hangout with acclaimed food photographer, Andrew Scrivani (who is also speaking at the conference). I have a tough time keeping up with technology; I'm a luddite at heart……so, I'm quite excited that I actually figured out how to do a google hangout. It was good and it didn't even hurt. Mr. Scrivani talked about food photography and took live questions from the internet world. Here are just a few of the things I learned:
Props – go for small, versatile , matte finish
Camera lens – 50 mm or 100 mm, if you can only have one go for the 50 mil
Monochromatic food- break it up with garnish, linens, surface color in propping
Photographing liquids/ glassware – surround with black and white reflector cards to knock down hotspots, use a spray bottle/ water to add glisten
Crutch – fresh garnish
Plating – is important, less is more, scale it down, iron the linens
So, with the butterscotch pie, I experimented with a matte finish background. Interesting…..now, if I could only learn to focus better….
Butterscotch Pie
adapted from a recipe by Mrs. Nell Albrecht from Blum, Texas found in Desserts- Favorite Recipes of Home Economic Teachers
Ingredients:
1/3 cup flour or

1/4 cup cornstarch

1 cup

brown sugar

1/4 t.

salt

2 cups

milk, scalded

3

egg yolks, slightly beaten

3 T.

butter

1 t.

vanilla

1 baked

pie shell

2 cups

whipping cream, whipped with 2 T. sugar & 1 t. vanilla
Cooking Directions:
Mix together flour or cornstarch, brown sugar and salt in a saucepan. Gradually add milk. Cook over medium heat, stirring constantly until the mixture thickens and boils. Cook 2 minutes and remove from heat.
Add small amount of hot mixture to egg yolks and then stir egg yolks into hot mixture. Cook for another minute, stirring constantly. Remove from heat and add butter and vanilla. Cool.
Whip the cream with the sugar and vanilla & spoon over cooled pie.
Enjoy!