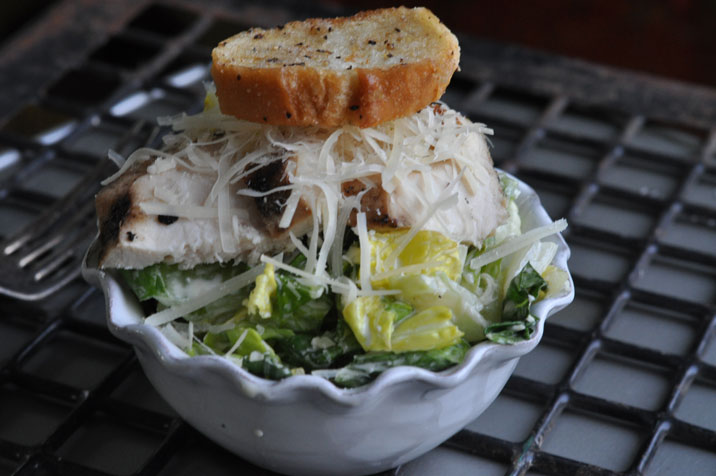 Luckily, I don't need to make my caesar dressing from scratch very often. The reason is a local Seattle company, Royal Pantry Foods(Northwest Gourmet Foods), produces a fabulous fresh caesar dressing they call "Royal Caesar dressing" that I can buy  in the refrigerated section at my local grocery store. This dressing is to die for. However, when I run out of it and don't have time to go to the store, this is the caesar dressing recipe I use. It's based on a Nordstrom Friends and Family Cookbook recipe that I doctored just an eensy bit; it's extremely easy and I don't have to worry about poisoning my children with salmonella- which is a good thing.
Easy Caesar Dressing
Ingredients:
2 cups

mayonnaise (Best Foods or Hellmans)

4 T.

extra virgin olive oil

1/2-1 t.

kosher salt

1/4 t.

fresh ground pepper

3-4 cloves

garlic, minced

2

olive oil-packed anhovy fillets, patted dry and minced (or the equivalent in anchovy paste)

5-6 T.

parmesan cheese, freshly grated

Juice of

1 lemon

1 T.

worcestershire sauce
Cooking Directions:
Whisk together all of the above ingredients until smooth. Taste and adjust the seasoning.
Cover and refrigerate.