I have a hard time keeping my life organized, so for the last year or so I have been making my self a big (36″x24″) monthly calendar.  Everyone seems to like, so I am going to tell you how to make one your self with Microsoft Publisher.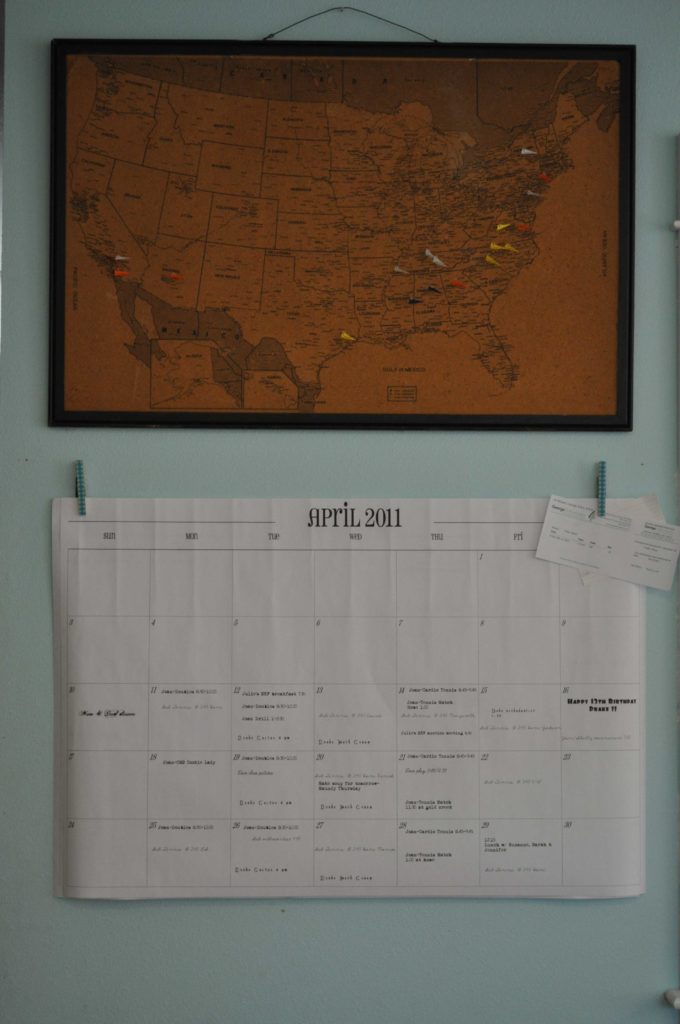 Let me preface these instructions by telling you I have Microsoft Publisher 2007.
Open Publisher and go to publication type calendar.
Set you options: page size – landscape, time frame – one month per page,  set your calendar date range 
Pick the "understated" template.
You should now see your understated calendar.  On left hand column click "change paper size".
When page size options come up, pick create custom page with width of 36″ and height of 24″.
Now you'll see a tiny calendar on a big sheet.  Note:  If you picked a date range of more that one month you will have to do the following steps for each month.
Stretch the calendar to fit the sheet.  Change the font type and size to whatever you like.  I like "Pharmacy" 125 pt. for the month, and "Pharmacy" 36 pt. for the weekdays and dates.
Then add the text for all of your activities.  I use a different font per family member.  Subsequent months get easier to do as you can copy and paste a lot of your recurring activities.
I then print to pdf (I have deskpdf) making sure I have picked the correct paper size (Arch D) and page range (current).
I then email the pdf to my local reprographics company (look under reprographics/ blueprinters in your local phone book) and I'm done.  So, essentially, you just need to get that pdf file to someone that can do large scale coping/printing.  My printer has a minimum four of five dollar charge so it is never more than that.
I also love that I can print that same pdf file at home to regular paper so I have my calendar in a handy portable size, too.
Attached is a sample copy of what my June 2010 pdf looks like.     june2010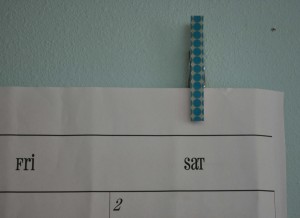 Recently, I discovered digital paper on etsy.  You can buy packs of great graphically designed paper and print them out at home at very reasonable prices.  I used some of this paper to cover the clothes hangers that hang up the calendar.