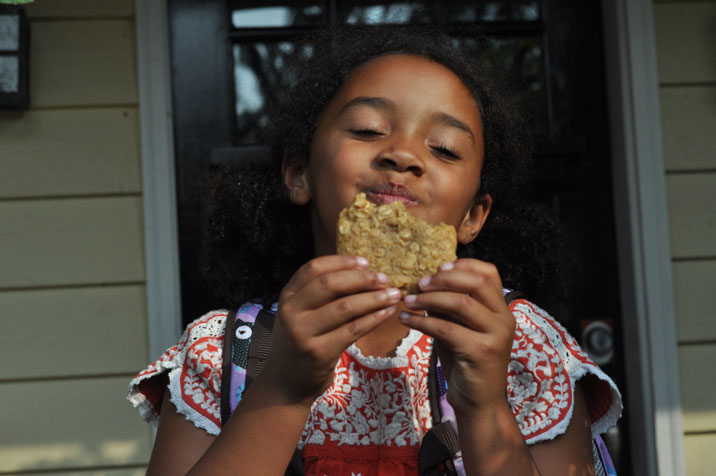 The first day of school this year, I was feeling fairly organized; I only had to get 2 kids out the door, the kids had 93 percent of their required school supplies, they had new underwear that fit, they were scrubbed and bubbled, I was scrubbed and bubbled and I had stocked up on school lunch supplies. THEN…..Coco brought me her lunch bag, a cute pink thermal nylon number with a huge flower on it. UH OH! We hadn't really looked at it or in it since the last day of school in June. It's amazing what damage mango juice can do to a thermos and lunch bag when aged a few months. It wasn't pretty. The bag was out of commission for several days as it was detoxed. This is the story of my life. Period.  Well, anyways, I really wouldn't like my life perfect – that would get a little monotonous….a little exploding mango juice is good for the soul….
The first day of school, I had planned on making Mr. D's favorite oatmeal cookies, but alas, time ran out and we made do with ho-hos. These are great lunch cookies. Mr. D prefers them without any spices, raisins or chocolate chips. Amazingly, they are delicious anyways. He made a batch today for next week's lunches so I can swear to their deliciousness.
Mr. D's Delightfully Plain and Chewy  Oatmeal Cookies
1 cup butter, room temp
1 cup brown sugar
3/4 cup white sugar
2 eggs, well beaten
1 T. vanilla
1 1/2 cups flour
1 t. salt
1 t. baking soda
3 cups oatmeal
Cream butter and sugars with mixer. Add eggs and vanilla to butter mix. In a separate bowl combine flour, salt, and baking soda. Add dry ingredients to butter mixture and mix well. Add oatmeal and combine well. Form into balls on cookie sheet. Bake 10 minutes at 350 degrees. Let cool on cookie sheet for a couple of minutes or until firm enough to transfer to wire rack.