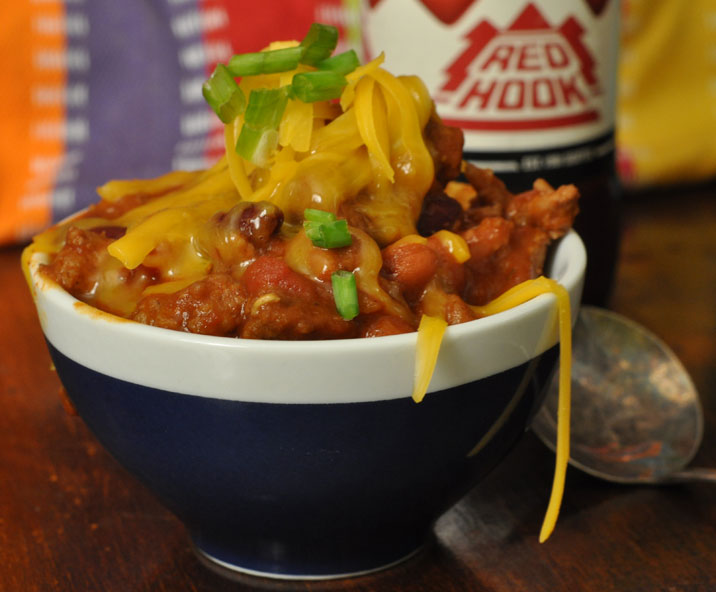 I'm back to scrambling to keep my life running smoothly. Work, children, tennis, auctions, old lady soccer, coaching Coco's basketball team all seem to get in the way of cleaning, doing dishes, folding laundry……I'd so much rather spend  45 minutes figuring out first & second grade girls' basketball game rosters than dusting.
I was on the ball with Super Bowl Sunday, though. Well, kind of…I didn't actually watch the game, because I wasn't actually at home. But, I did leave my peeps with some good food- deliciously super chunky chili to be exact and enough chips to feed a small nation. I lucked out because my all-time favorite poet, Marjorie Manwaring, just published her first full length book, Search for a Velvet-lined Cape, and was giving a reading at Elliot Bay Bookstore in Seattle at the same time as the super bowl; so I got to go watch her.
I love this chili recipe that I adapted from a Windermere Cooks recipe. Recently, I finished a small office building for my friend, Gayle, who owns the local Windermere Realestate Company. Knowing I love a good cookbook, she gave me Windermere Cooks. I love the combination of stew meat and Italian sausage in this chili. I think the baked beans in it could be considered a secret ingredient. This chili thickened up on me very quickly, so I doubled the original amount of canned chopped tomatoes. I also adjusted the amounts of the spices. Adjust as you see fit, too!  I think my stove may run hot, because if I had simmered for the time the original recipe called for it would have been one big hot mess.
Mr. D. judged a chili cook-off at our church a couple of weeks ago, so he is now our family chili expert. He loved this chili and said he would have awarded it "heartiest chili" if it had been in the cook-off. I just may enter it next year….
Super Chunky Chili
Ingredients:
2 T.

vegetable oil

1

onion, chopped

2

garlic cloves, minced

2 pounds

lean stew meat, chopped in small chunks

2 pounds

mild italian sausage

2 – 14 oz.cans

chopped tomatoes with liquid

1 6 oz. can

tomato paste

1 T.

brown sugar

1 T.

cocoa

3 T.

chili powder

1 T.

cumin powder

1 T.

oregano

1 t.

salt

1 15 oz. can

baked beans

1 15 oz. can

pinto beans, drained

1 15 oz. can

kidney beans, drained

chopped green onions, sour cream,

grated cheddar cheese for topping
Cooking Directions:
Heat the oil in a large pot and saute the onion for about 5 minutes. Add the garlic and cook another 2 minutes, stirring frequently.
Add the stew meat and sausage and cook until browned. Pour off the fat.
Add the whole cans of tomatoes, tomato paste, baked beans, brown sugar, cocoa, chili powder, cumin, oregano and salt.
Simmer for 2 hours, partially covered, stirring often. I did mine for 30 minutes and it was great.
Add the pinto and kidney beans and simmer for another 30 minutes. I did maybe 10 more minutes.
Garnish with your desired toppings.
Serves at least 12, probably 16.