Whidbey Island is one of my favorite places to go.  My family has a beach house on Whidbey, just south of Coupeville, so we get there often in the summer, not so much during the school year because of the kids schedules.  Our house is on a rocky beach full of tide pools, clams, mussels, starfish, crab and moon snails.  It is a kid's (and adult's) paradise.  There are always lots of clams to harvest and clam chowder is my favorite way to prepare them.  I adapted this recipe from Ina Garten's East Hampton Clam Chowder recipe found in her Barefoot Contessa Family Style cookbook.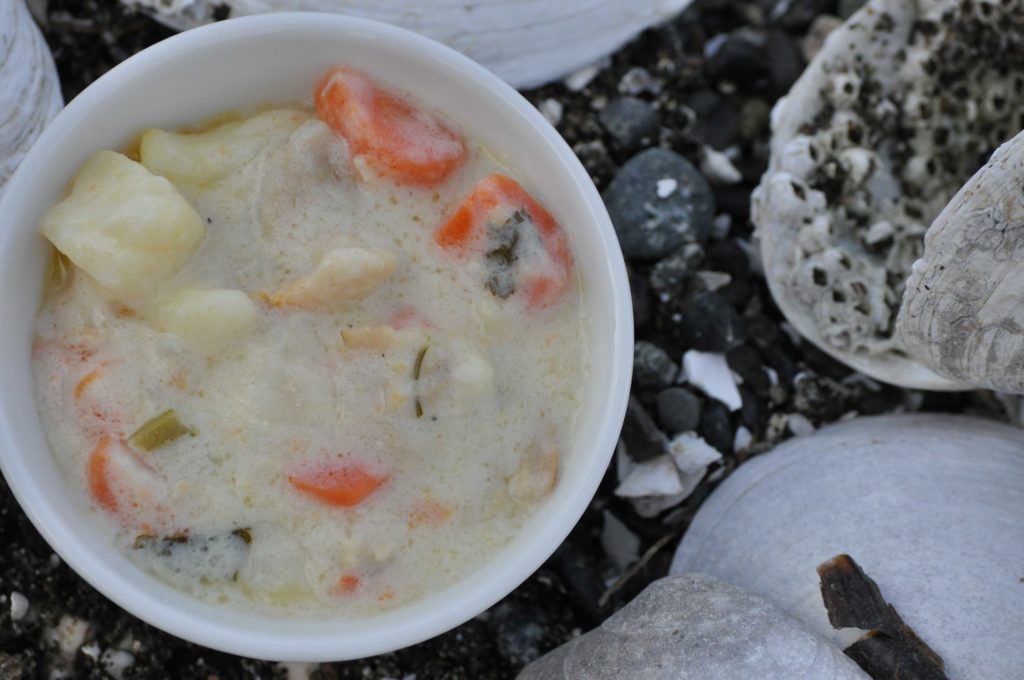 Whidbey Island Clam Chowder
Ingredients:
4 T./8 T.

butter

2

yellow onions, chopped

6 stalks

celery, medium diced

6 large

carrots, medium diced

8

yukon gold potatoes, peeled and medium diced

1 1/2 t.

fresh minced thyme or tarragon or it is even good without any

1 t.

koshe salt

1/2 t.

ground pepper

1 qt.

clam juice

1/2 cup

flour

2 cups

1/2 and 1/2

3 cups

chopped fresh clams
Cooking Directions:
Cook the onion in 4 T. of butter in large stock pot for about 10 minutes or until translucent.
Add the vegetables and seasonings and saute for another 10 minutes.
Add the clam juice and bring to a boil. Simmer uncovered for about 20 minutes until the vegetables are tender.
In a small pot, melt 8 T. of butter and whisk in the flour like making a white sauce. Whisk in 1 cup of the broth and then pour this mixture back in the big pot.
Add the 1/2 and 1/2 and clams and heat for a few minutes to cook the clases. Add more salt and pepper if necessary.
Yes, and now you do need to go jog 3 miles to work off that 1/2 and 1/2. But, it is worth it.