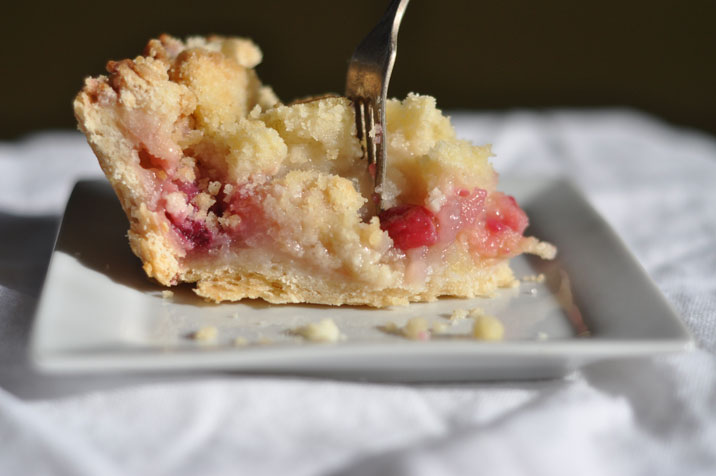 I have been making this pie a lot this past month. It is absurdly delicious and reminds me that the leaves are turning red, purple, yellow and orange outside my window. The original recipe came from Liz, my church's trusty secretary – I just joanified it a little. Joanifying it entailed adding more apples, more sugar and doubling the crumb topping. Try it – you will really like how the cranberries add a little tartness, but the crumb topping makes sure it stays on the the sweet side. Mr. D. has asked if I can make a pie of just crumb topping…..I'm so proud – a boy after my own heart.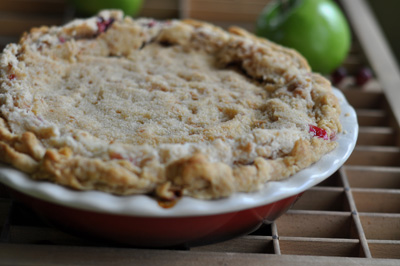 Apple Cranberry Crumble Pie
Ingredients:
1 recipe

of your favorite pie crust

4 large

apples (I use granny smith), peeled, cored and sliced up

2 cups

fresh cranberries

1 cup

sugar

1/4 cup/ 1 cup

flour

1 cup

sugar

8 T. (1 stick)

cold butter, cut into small chunks

1/2 – 1 t.

cinnamon
Cooking Directions:
Line a 9 inch pie pan with the pie crust and flute the edges.
In a large bowl combine the apples, cranberries, 1 cup sugar and 1/4 cup flour and then place in the pie shell, smoothing out the fruit.
Bake for 30 minutes at 400 degrees.
Meanwhile, in a large bowl cut the butter into the combined 1 cup flour, 1 cup sugar and cinnamon until it resembles coarse crumbs. You may have to use your hands.
When the pie is done with its first 30 minutes of baking, remove it and spread the topping over it, reduce the over to 375 and bake for another 25 to 30 minutes until the top is golden and the juices bubbling. If you need to bake it longer, cover with foil to keep from overbrowning. The bubbling juices are the key!
Allow to cool for 2 hours before devouring.