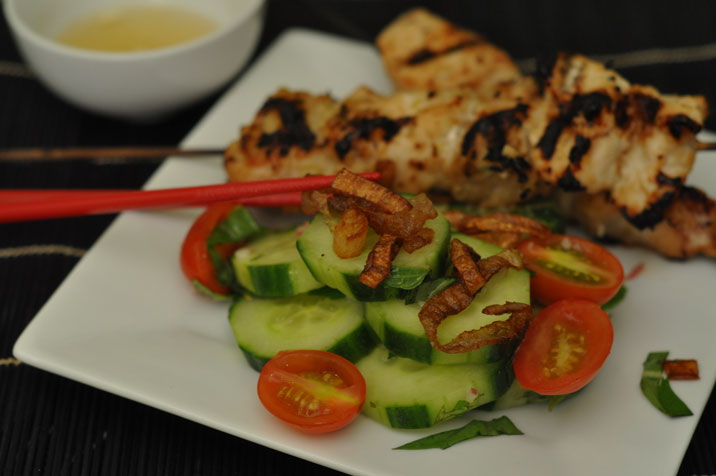 Since the Lieutenant and I are a little very pudgy these days, we have been attempting to eat healthier. In my never ending quest for the perfect diet, I'm currently trying the 5-2 diet out. One week in and all is well. I love fresh tasting Vietnamese food and it is so good for you, so I made grilled lemongrass chicken satays and cucumber salad with caramelized shallots and herbs the other night for dinner. The satays were devoured pretty much instantly.  Serve the satays with Nuoc Cham dipping sauce and you won't be sorry. Picky eater Coco even packed a couple of skewers to school one day for lunch. The salad was not as popular, but I loved it, especially the caramelized shallot topping.
Cumcumber Salad with Caramelized Shallots and Herbs
adapted from Sunset Magazine, March 2013
Ingredients:
3 large

shallots, mince a 1 T. portion & slice the rest crosswise, 1/4 inch thick

2 cups

vegetable oil, for frying

1 T.

champagne vinegar

1 T.

rice vinegar

2 t.

sugar

2 T

fresh lemon juice

1/4 t.

kosher salt

1/2 t.

coarsley ground pepper

1 1/2

english cucumbers, 1/4 inch slice, peel if desired

1 cup

halved cherry tomatoes

2 T.

fresh mint, roughly chopped, not too fine

2 T.

Thai basil, roughly chopped, not too fine

1 T.

red or green shiso, roughly chopped (optional)

1 T.

cu kieu (Vietnames pickled leeks), finely chopped or mild cucumber pickles such as Claussen dill
Cooking Directions:
Separate the sliced shallots into rings. Fry the shallots in oil heated to 275 degrees in a small, deep heavy saucepan until they turn a uniform light brown – about 8 to 10 minutes. Drain on paper towels. Reserve 2 t. of shallot oil for vinaigrette; let cool.
Make vinaigrette by whisking together vinegars, sugar, lemon juice, salt and pepper. Add the shallot oil and reserved 1 T. of minced shallot and whisk well to blend. Season to taste as desired with more salt, pepper or lemon juice.
Toss cucumbers and tomatoes with the vinaigrette. Add the mint, basil and optional shiso.
Arrange the salad on a platter and top with the pickled leeks and fried shallots.
Grilled Lemongrass Chicken Satays
adapted from Vietnames Cooking Made Easy by Periplus Editions
Ingredients:
1 pound

boneless chicken thighs, cubed (I used boneless chicken breasts)

2 stalks

lemon grass, thick bottom part only, outer layers discarded, inner part sliced

3

shallots, chopped

1 finger length

chili,deseeded and sliced (I skipped this ingredient)

3 cloves

garlic

1 T.

oil

1 T.

soy sauce

1 T.

oyster sauce

2 t.

fish sauce

1 T.

honey

1 t.

sugar

1/4 t.

salt

1 t.

sesame oil

1/4 t.

fresh ground pepper

12 bamboo skewers

soaked in water for 1 hour
Cooking Directions:
Make the marinade by grinding the lemongrass, shallots, chili, garlic and oil to a smooth paste in a food processor. Add all of the other ingredients and mix well.
Marinate the cubed chicken in the marinade at least 1 hour. I do this in a gallon size zip lock bag.
Thread the chicken onto the skews. Grill about 4 minutes each side until cooked.
Good plain, but better with nuoc cham dipping sauce or even peanut sauce.
Please note – I doubled the recipe and quadrupled the amount of chicken and it still turned out fabulous!