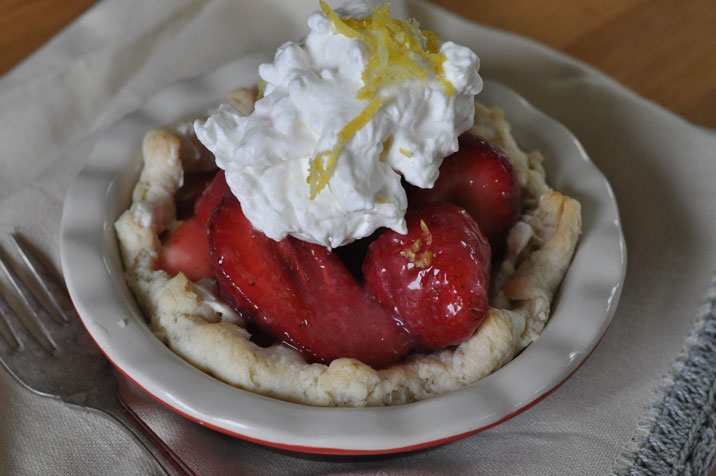 I love Easter.  Another Easter has come and gone and I personally ate about 23 devilled eggs and at least 300 jelly beans. A week later, I'm still in yoga pants – the zip ups aren't quite ready for me…..
This Easter we had a little over twenty people over. Thankfully, my sister and sisters-in-law made the green salad, rolls and potatoes while I made some old standbys:
And I made some new ones:
Ina's 4 hour leg of lamb
Sprintime Orzo Salad
Roasted Beet and Feta Salad
English Pea Salad
Mile High Strawberry Pie AKA Strawberry Lemon Cream Cheese Pie
Shockingly, I didn't like Ina's lamb as much as my 5 hour lemon lamb. The new salads were all triumphal successes; I'll post the recipes soon along with the chocolate sour cream bundt cake. Today, I'll share the Mile High Strawberry Pie recipe that I found in the April, 2014 issue of Southern living. The base of the pie is a creamy lemony filling, so I think Strawberry Lemon Cream Cheese Pie is a better appellation. It was a nice variation that combined both strawberry and lemon flavors. I love a lemon pie at Easter!
Strawberry Lemon Cream Cheese Pie
adapted from Southern Living, April 2014 (mile high mini strawberry pies)
Ingredients:
1 recipe

pie crust pastry

****lemon

filling*****

1-1/2 packages (12 oz.)

cream cheese, softened

1 T.

sour cream

1/2 cup

sugar

2 t.

lemon zest

1 T.

fresh lemon juice

*****Strawberry

Topping*****

1 1/2 cups

fresh strawberries, coarsely chopped

10 cups

fresh strawberries, hulled; halve about half of the berries

1 cup

sugar

2 T.

cornstarch

1 T.

butter

****Whipped

Cream****

1 cup

heavy cream

1 t.

vanilla extract

2 or 3 T.

sugar or powdered sugar
Cooking Directions:
Fit crust in a 9 inch pie pan. Blind bake at 425 degrees for 10 minutes or until golden brown. Cool.
Prepare lemon filling by beating together cream cheese and sour cream until smooth. Add the 1/2 cup sugar, lemon zest and juice. Beat until smooth and fluffy. Spread the filling in the bottom of the cooled crust. Cover with plastic wrap and refrigerate until you are ready to add the strawberry topping.
Prepare the strawberry topping by processing 1 1/2 cups chopped strawberries in a food processor or blender until smooth. Place in a sauce pan with 1 cup of sugar stirred in. Whisk cornstarch into 1/4 cup of water and gradually whisk into the strawberry mixture. Bring to a boil over medium heat, whisking constantly. Boil 1 minute, remove from heat and whisk in butter. Cool at least 15 minutes.
Toss together hulled strawberries with strawberry mixture. Cover and chill for 3 hours or until cold.
Beat the cream and vanilla at high speed until foamy. Add the sugar and beat until medium hard peaks form. Cover and refrigerate until ready to use.
Spoon strawberry topping over the lemon filling. Top each piece with the whipped cream.
Serve immediately.