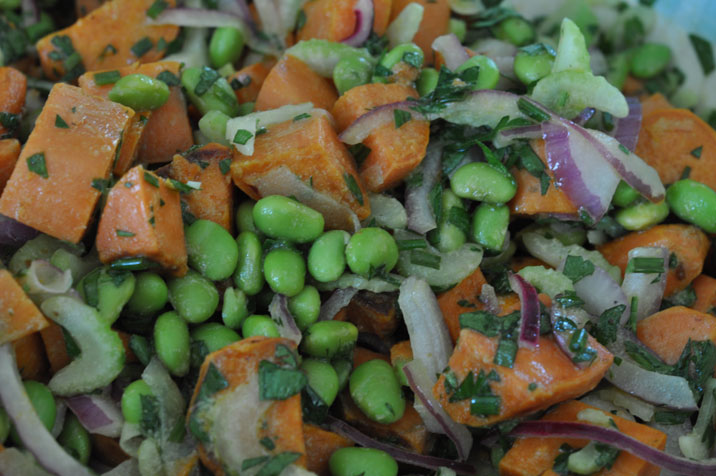 Most every Tuesday morning for the last five years I have played tennis with my glorious "tennis ladies". They are a superb bunch of very competitive tennis players. Two of us, Jill and I, are constantly battling the bulge (though Jill only has a tiny bulge, unlike moi!) while Gale and Shelly are naturally long and lean, which is why we sometimes we hate them and have to hit the ball at them really hard. Just sayin'…..
Jill is constantly trying out new recipes and so a steady stream of excellent food energizes us before our match. Sometimes, it's rainbow cookies; last week it was trophy cupcake style minted cake balls. This past summer, she shared an amazing and healthy sweet potato salad – the recipe came from Natalie Morales from the Today Show.
Since I got on the scale yesterday and realized I had gained 13 pounds on my latest diet I promptly went out and bought sweet potatoes to make more of this tasty salad.
Sweet Potato Salad
from Natalie Morales of the Today Show
Ingredients:
4 large (2.5 to 3 lbs.)

sweet potatoes, peeled and cut into 1 in. cubes

6 T

olive oil, divided

1/2 small

red onion

1/2 cup (I used at least 1-1/2 cups)

frozen edamame, shelled and thawed

1 cup

celery, sliced (about 3 ribs)

1/4 cup

fresh parsley, chopped

1 T.

chives, chopped

2 T.

lemon juice (fresh)

1 T.

dijon mustard

salt and

pepper to taste
Cooking Directions:
The original recipe says to heat a large, heavy pan over medium high heat and add 1 T. of oil. Arrange half of the potatoes in skilled in a single layer. Reduce heat to medium. Cook potatoes, covered, for 4-5 minutes or until tender and golden, stirring after 2 minutes. Transfer potatoes out and repeat the process with remaining potatoes.
I prefer to roast the potatoes tossed in 2 T. of olive oil in an oven heated to 450 degrees. Check after 7 minutes and flip over. Cook for another 5 minutes or until tender and golden.
Combine the onion and the edamame, celery, parsley and chives in a large bowl. Add the potatoes.
Whisk together the lemon juice, mustard and remaining 4 T. of olive oil. Drizzle over potato mixture and toss gently. Season with salt and pepper.
Yum!