I am lucky to always get to host Easter in my family.  I usually make  a couple of different kinds of  lamb, ham for the non-lamb people, rolls, creamed spinach, roasted asparagus and the desserts.  My nieces were in charge of appetizers, my sister made a big green salad and this year my friend (& my brother's girlfiend) Stephanie brought the potatoes.  This will be her job every year after tasting what she brought. She made Ina Garten's Potato Fennel Gratin without the fennel.  It was to die for.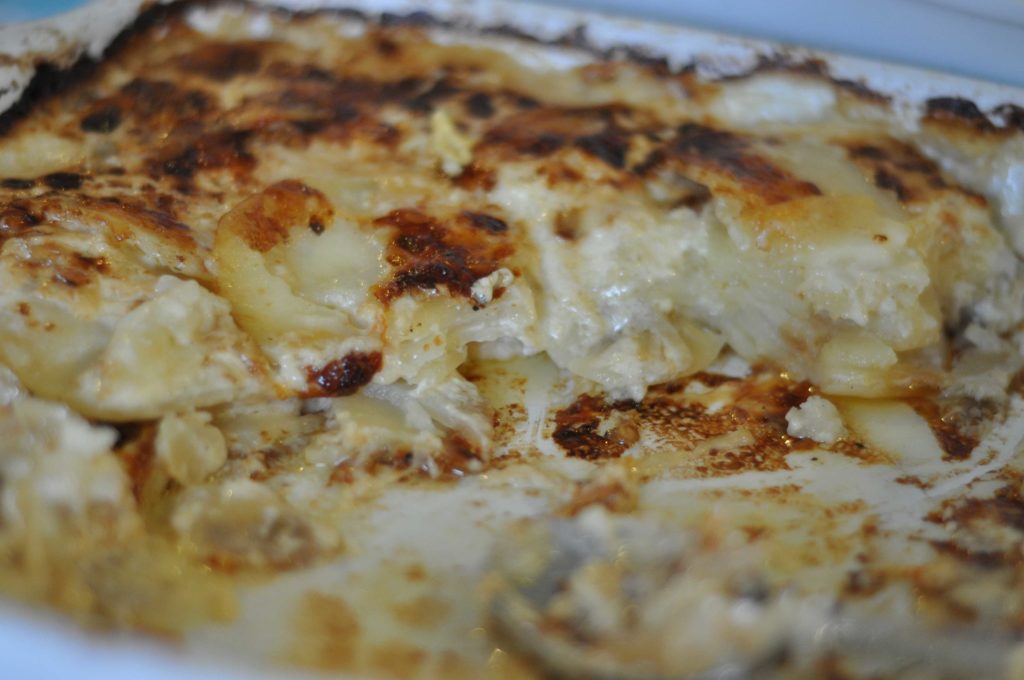 Ina's Potato Fennel Gratin but don\'t worry if you don\'t have any fennel
Ingredients:
2 small

fennel bulbs (it does taste fine without)

1

onion, thinly sliced

2 T.

olive oil

1 T.

butter

2 pounds

potatoes (Ina uses Russet – I like Yukon Gold), peeled and thinly sliced

2 cups plus 2 T.

heavy cream

2 1/2 cups (1/2 pound)

Gruyere\' cheeese

1 t.

kosher salt

1/2 t.

pepper
Cooking Directions:
Preheat the oven to 350 degrees.
Butter a 15x10x2 pan.
Remove fennel stalks and cut bulbs in half lengthwise. Remove the cores and thinly slice crosswise.
Saute the fennel and onion in the olive oil and butter for 15 minutes over medium heat.
Mix the potatoes in a large bowl with the 2 cups cream, 2 cups cheese, salt and pepper. Add the fennel and onions and mix well.
Put the mixture in the baking dish and smooth down. Mix the leftover 1/2 cup gruyere\' with the 2 T. of cream and sprinkle over the top.
Bake for 1 1/2 hours. Potatoes should be tender and the top brown and bubbly. Let set for 10 minutes before serving.
Yum!