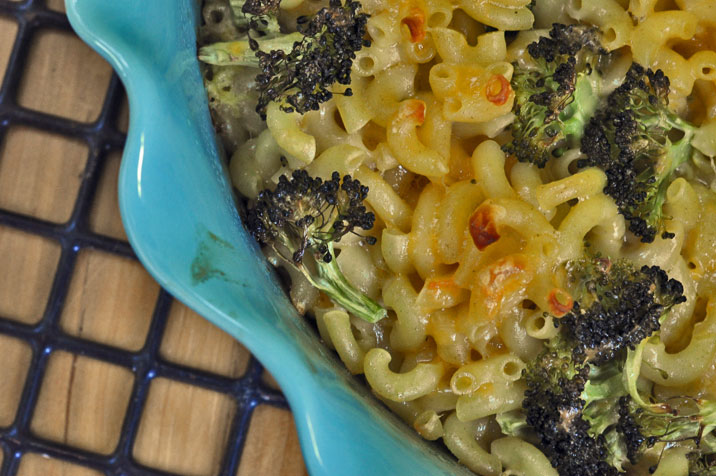 Do I have the only child in the world that doesn't like peanut butter and jelly sandwiches? How un-American is that? Next thing I know, she'll be wanting a tattoo of Lenin on her forearm. My  eight year old, Coco, can be a very difficult child to feed.
She doesn't like sandwiches
she doesn't like toast
she doesn't like casseroles
she doesn't like peanut butter
she doesn't like meat in general
she doesn't like vegetables
except edamame and broccoli.
She does like…
candy
noodles
butter by the stick
parmesan  and cheddar cheese
watermelon
blueberries
Ina's Weeknight Bolognese (amazing, since typically she doesn't eat hamburger in dishes)
I have two recipes I make that she'll eat because they contain noodles, cheese and brocolli. They are also easy to make, school night dinners. The first, brocolli macaroni and cheese casserole is from Sylvia's Restaurant in Harlem – Coco cames back for thirds of this cheesy casserole. Double the recipe if your family has hearty appetites like the Wilsons. The second, brocolli noodlepanpie, is from Laurie David's The Family Dinner Cookbook; less ingredients in this one, but a little harder to cook in my opinion. I try to sneak some chicken into this one and it also passes the Coco test.
Brocolli Macaroni Cheese Casserole
Ingredients:
6 cups

water w/ 1 t. salt

2 cups

uncooked elbow macaroni

2 cups

cheddar cheese, shredded

1 cup

mozzarella cheese, shredded

1/4 cup (1 stick)

butter

1 cup

milk

1/2 t.

seasoned salt

1/2 t.

garlic salt

1/2 t.

freshly ground pepper

2 large

eggs, beaten

2 cups

cooked chopped brocolli
Cooking Directions:
Boil the salted water and add the pasta. Cook for 7 minutes. Drain. Return the pasta to the pot and add the cheeses and butter. Stir until melted.
Stir in the milk, salts, eggs and brocolli.
Spoon into a greased casserole dish. Bake for 30-40 minutes at 400 degrees.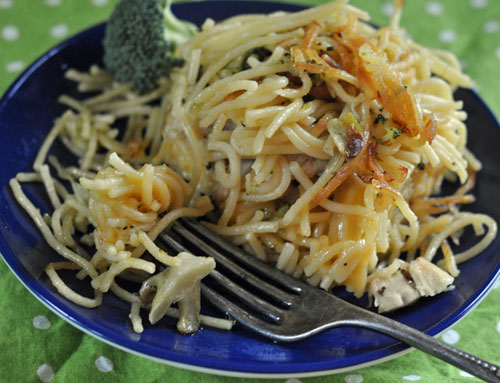 Brocolli Noodlepanpie
adapted from The Family Dinner by Laurie David
Ingredients:
1 pound

spaghetti noodles

1 head

brocolli, torn apart into little pieces

1 cup

parmesan cheese, plus more for sprinkling

2 T.

olive oil

2 cups

shredded cheese (cheddar, jack or mozzarella)

salt &

pepper
Cooking Directions:
Cook the pasta per the package. When they are done add the brocolli and cook 3 more minutes. Drain and toss the noodles with the parmesan.
Heat a medium size non-stick pan over medium heat, coat with the olive oil. Put 1/2 the noodles in the pan and flatten, layer cheese on top & crown with the rest of the noodles. Let the noodle pie fry for about 10 minutes – until the bottom is golden brown. You may need to add more oil.
With the help of a plate, flip the noodle pie over. Cook until the bottom is golden brown and the cheese has all melted.