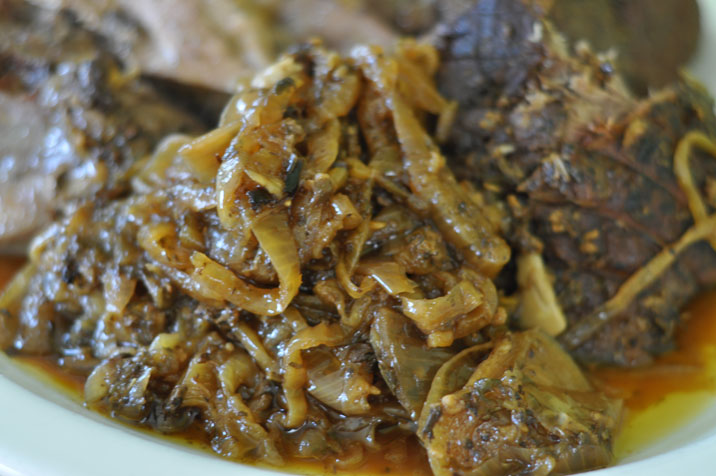 Well, I've been meaning to post some of the new recipes I tried out for Easter and I finally have a spot of  time today! Easter was good.  I love singing "Christ the Lord is Risen Today, Ah-ah-ah-ah-ah-lay-a-lu-oo-jah",  seeing the bulbs starting to bloom, eating chocolate bunnies and peeps, gobbling up devilled eggs and feeding my family. This year there were 16 of us and this is what we feasted on:
5 Hour Tenderly Roasted Lemon Leg of Lamb
Mary Kay's Lamb of God
Ham ( for the anti-lamb eaters)
Green Salad (brought by my sis)
Strawberry Shortcake
Today I'm going to share the lamb recipes. Oh, you're going to love them. They are very, very different. The first , five hour heavenly roasted lemon lamb is a hybrid of a couple of recipes I have tried in the past. The first being seven hour lemon and garlic lamb from the scrumptious blog and the second  a recipe from the New York Daily New entitled "From a Greek Oventry Slow-roasting for a Meltingly Tender Leg of Lamb".  By the time the lamb is done the meat is falling apart, it is so tender and the onions have basked for hours in a tangy lemon sauce. So, so  Good!
The second recipe is from my friend, master cook Mary Kay. In this instance the lamb is marinated and grilled. The meat comes out medium rare and fabulously tender. I can't tell you which I like better and they are both definitely on next year's Easter menu.
Five Hour Tender Roasted Leg of Lamb
Ingredients:
1

boneless leg of lamb, 5-6 pounds

4 large cloves

of garlic, chopped

1/2 cup/ 1/2 cup

olive oil

1 T. / 1 1/2 T.

dried oregano

3

lemons

1/4

salt

pepper

to tast

6

onions, thinly sliced

salt and pepper

to taste

1 1/2 cup

chicken stock
Cooking Directions:
Combine garlic, 1/2 cup olive oil, 1 T. oregano, the juice & zest of one lemon, 1/4 t. salt and pepper and lamb in bowl or gallon size ziploc bag. Refrigerate for 6 hours or overnight.
In a medium roasting pan, mix the onions, 1/2 cup olive oil, 1 T. of oregano, juice of one lemon and salt and pepper to taste. Remove the lamb from the marinade and set it on top of the onion mixture. Lightly season with salt and pepper.
In a saucepan combine the chicken stock, 1/2 T. oregano and juice of one lemon. Season with salt and pepper. Bring to a simmer and then remove from the heat. This will be your basting liquid.
So, now place in a preheated 425 degree oven, without a lid, and roast for 30 minutes.
Turn the oven down to 300 degrees, turn the lamb over and baste with 1/2 of the basting liquid. Roast for another 30 minutes without a lid.
Then turn the oven down to 250 degrees, flip the meat over, baste some more and cook for appoximately 4 more hours with the lid on. Baste fairly frequently (at least once an hour), do not let allow juices to boil dry.
Meat should be fork tender and delicious when done.
Lamb of God ala Mary Kay
Ingredients:
1

boneless leg of lamb, butterflied (I just untied a rolled leg of lamb & it worked fine)

1 cup

dry red wine

3/4 cup

soy sauce

4 cloves

garlic, crushed

2 T.

fresh rosemary, roughly chopped

1/2 cup/ 1/4 cup

fresh mint, chopped

black pepper

to taste (MK uses 1 T.)

1 small jar

apricot jam.
Cooking Directions:
Combine ingredients, except lamb, jam and 1/4 cup mint, and mix well. Place lamb in a large ziploc bag and pour marinade over and seal. Marinade at least 6 hours or overnight, turning occasionally.
Grill over indirect heat for approx. 20 minutes each side, over hot coals. Since we have a gas grill Mary Kay said to turn the outside burners on medium and the inner ones on low and grill over the inner burners for approx. 20 minutes each side.
Serve immediately, slice lamb fine and serve with minted apricot jam.
For the Apricot-mint jam, Mary Kay says to place a heat a jar of apricot jam in a sauce pan with the mint, simmer and then strain. Of course, I left mine for a minute heating in the saucepan and it burned. So, I just zapped some leftover jam and mint in the microwave and did not bother straining it and it was fabulous.