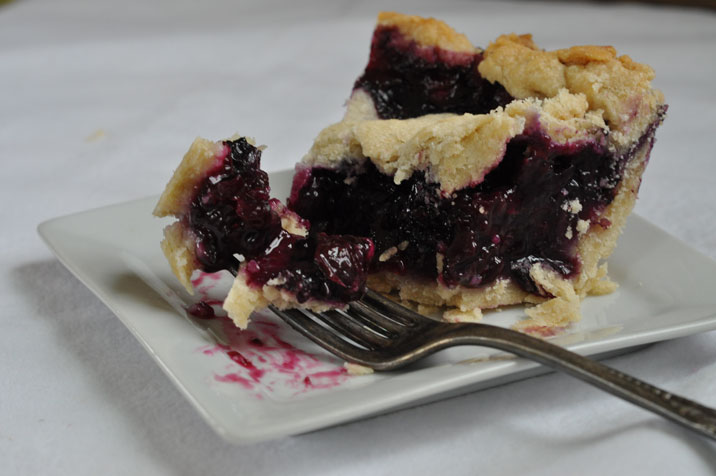 One of the pies I shared at the pie extravaganza was Wanda McNair's Blueberry Pie that I found in Saveur Cooks Authentic American Cookbook. Superb is how I describe it. Plus, one should feel no guilt eating it as blueberries are now a "super" food. It is now my and Coco's favorite blueberry pie. It is a double crust pie and calls for fresh blueberries, but I have made it with frozen ones with excellent results.
The second recipe is one I make  from my Maine Course Cookbook, a cookbook I bought on our family vacation to Maine a few years back. This single crust pie serves the blueberries in a glace. Good, just not as good as the first one in my opinion.
God Bless Blueberry Pie
Ingredients:
4 cups

fresh blueberries

3/4 cups

sugar

1 T.

lemon juice

3 T.

cornstarch

1 T.

butter, cut into small chunks

pie pastry

for double crust pie
Cooking Directions:
Roll out crust to fit in 9 inch pie pan.
For filling, gently mix berries, sugar, lemon juice, and cornstarch together. Dump it in the pie shell and dot with the butter.
Cover with the top crust and crimp edges together. Prick the top to vent.
Bake for 10 minutes at 400 degrees, then reduce heat to 350 degrees and bake for about 30 minutes more or until juices are really bubbling.
Enjoy!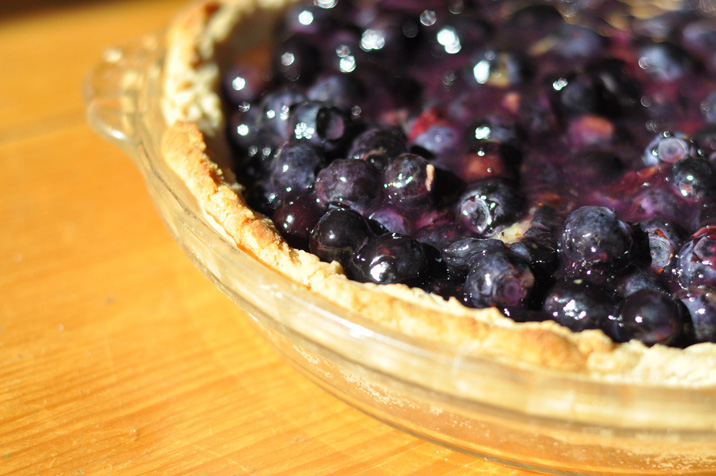 Fresh Blueberry Glace Pie
adapted from The Maine Course Cookbook
Ingredients:
1

prebaked pie shell

4 1/2 cups

fresh blueberries

1 1/3 cup

cold water

1 1/3 cup

sugar

5 T.

cornstarch

1 oz

blackberry brandy (optional)
Cooking Directions:
Mix water and cornstarch together in a saucepan, add sugar and 1/2 cup of smashed blueberries.
Bring to a boil and stir until thickened and then add the rest of the blueberries and the brandy.
Pour into the pie shell and chill.
Enjoy with fresh whipped cream!