I don't know about you, but I love perusing the displays at Anthropologie.  The books, the funky knobs, the candles, the clothes, the art – I love it all.  Unfortunately, I can't afford it all….but this past Christmas I treated myself to a new cookbook I found there called, The Family Dinner – Great ways to connect with your kids, one meal at a time by Laurie David with recipes by Kirstin Uhrenholdt.  I love this cookbook.  Family dinner is one of my greatest weaknesses along with housework.  Ugh!! It not only has great recipes but really delightful ideas on how to engage your kids at the dinner table and grow their minds.  One idea I am going to try really soon is for all of us to memorize a poem. Yes, this sounds like an unlikely goal in my household – but there is always hope.  I will report back if it happens.  There is also a section on conversation starter questions for the dinner table.  Here are a few examples of conversation starters:  "Name something that causes you anxiety", "What is the grossest thing you have ever eaten?", and  "Describe you dream vacation".  It seems my kids are constantly evolving and sometimes we are all going in so many directions that we lose a bit of each other.  I think coming together at the dinner table helps us find each other again.
The first recipe I made from the book was "Kirstin's Nanna's Frikadeller" with the "Danish Cucumber Salad" to go with it.  Frankly, they were amazing.  I loved them, the big kids loved them and even Coco consented to eat one.  Score one for mom!  So, here is my adaption of Kirstin's recipe: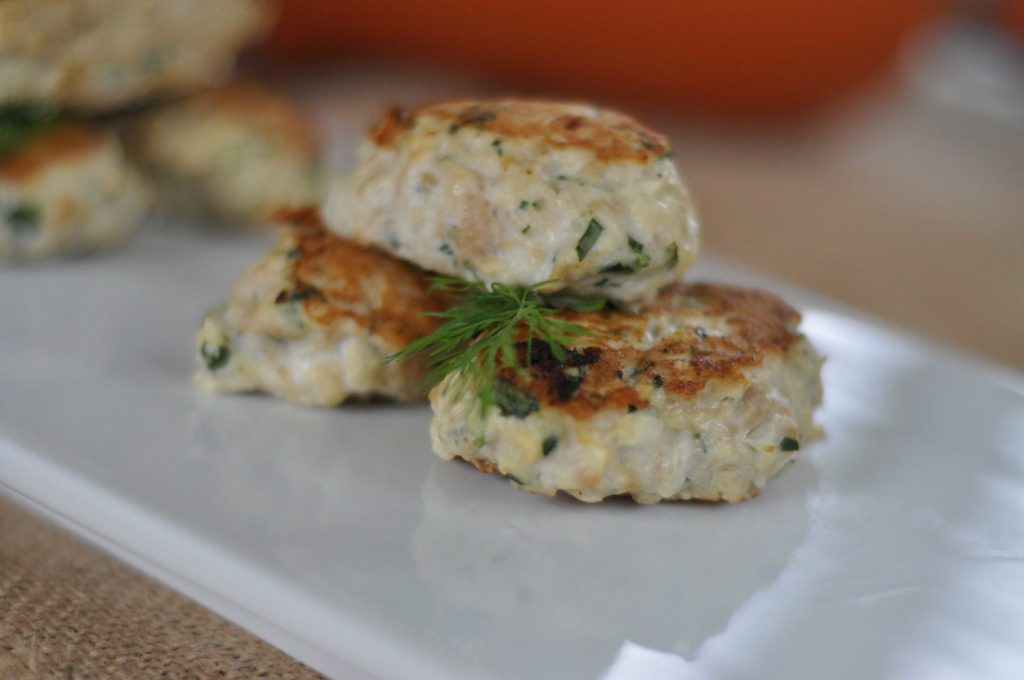 Frighteningly delightful chicken meatballs
adapted from The Family Dinner by Laurie David
Ingredients:
3 pounds

ground chicken

1 cup

cold water

2/3 cup

unseasoned bread crumbs (I have used both progresso and panko style-both work fine)

2

eggs, lightly beaten

2 t.

salt

1/2 t.

pepper, (the original recipe called for 1 t.- but I am not a heavy pepper lover)

1 T.

apple cider vinegar

1/4 cup

italian parsely, chopped (try subbing cilantro or dill here)

1

onion, finely chopped

vegetable oil for frying
Cooking Directions:
In a big bowl mix everything but the chicken and vegetable oil. Let it sit 10 minutes while the bread crumbs absorb the liquid.
Add the ground chicken and mix well.
Heat the oven to 350 degrees & pam a baking sheet.
Heat a large pan over medium heat and drizzle with the vegetable oil.
Make large oval shaped meatballs by dipping a table spoon and your hands in cold water and shaping the meatball between the spoon and your hand. The cold water helps to keep the mixture from stick to your hand and the spoon.
Put them in the pan as soon as you form them. Flip them over when they are browned and brown the opposite side.
When they are brown on two sides, but still raw in the middle, slide them onto the baking sheet. When you get a sheetful on meatballs put them in the oven for about 20 minutes to finish cooking.
This recipe makes around 28 to 32 meatballs.
Enjoy!