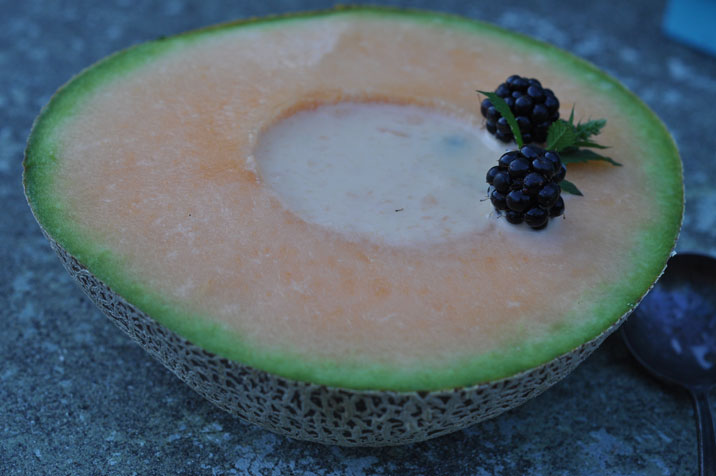 Turn off your oven and bring out the blender and make yourself a batch of cold soup – the perfect antidote for hellishly hot days.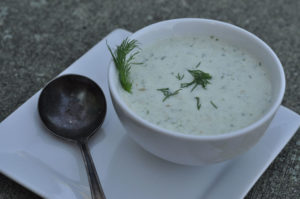 It's been like an inferno this month in Snohomish. Of course, an 80 degree day is considered really, really hot in the Pacific Northwest, almost entering the gates of Hell hot. Bless Nancy Leson's heart. Earlier this month, Ms. Leson, of the Seattle Times, wrote about her favorite chilled soups which I had to try out. Cantaloupe Soup and Cucumber and Green Grape Gazpacho are easy to make, elegant and very refreshing – try them yourself.
Chilled Cantaloupe Soup
a recipe from Nancy Leson, The Seattle Times, 8/4/2013
Ingredients:
6 cups (about 1 large)

cantaloupe, cut up

1 cup

heavy cream

1 1/2 cup

fresh squeezed orange juice

1/4 cup

honey (or less if the melon is really sweet)

dash

cinnamon

dash

grand marnier (optional)
Cooking Directions:
In a blender, puree the cantaloupe.
Pour the pureed cantaloupe into a large bowl and whisk in cream, orange juice, honey and cinnamon. Grand Marnier is optional.
Chill 2 hours and then eat up.
Green Grape and Cucumber Gazpacho
adapted from Nancy Leson, The Seattle Times, 8/4/2013
Ingredients:
1 pound

seedless green grapes

2 cups

english cucumber, unpeeled and diced

2

scallions, green parts only, chopped

1/4 cup

fresh dill, chopped

2 oz.

cream cheese

3/4 cup

half and half

1/2 cup

plain nonfat yogurt

1 1/2 T.

white wine vinegar

2 T.

extra virgin olive oil

kosher or sea salt

to taste
Cooking Directions:
In a blender combine the grapes, cukes, onion, dill, cream cheese, half and half, yogurt, vinegar, olive oil and salt.
Blend to a smooth puree. Chill for 2 hours.
Serve cold.