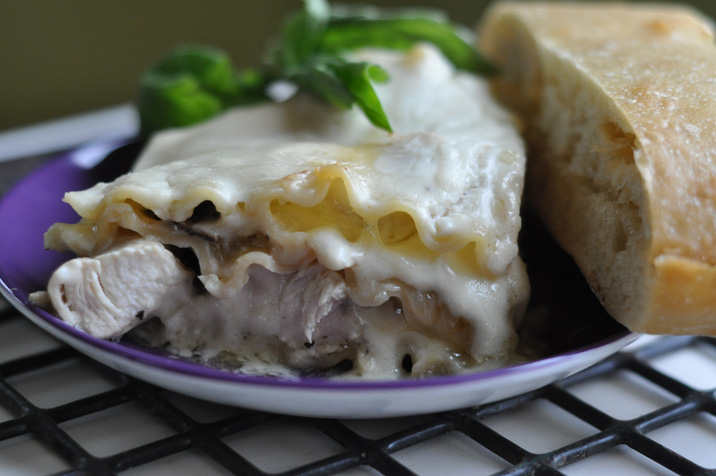 Luscious Caramelized Onion, Portobello Mushroom, and Chicken Lasagna is the other lasagna I made last week.  I have to tell you, it was soooo goood. It was worth the ten pounds I think I gained eating it.  It is actually a concoction I made up borrowing heavily from those fabulous Junior League ladies.  They have a recipe for caramelized onion lasagna with pancetta in their Celebrate the Rain cookbook that is the basis for my recipe.
I love this recipe because it can be made ahead of time. It seems kind of labor intensive, but it is really not bad. Also, if your oldest daughter decides to become a pescatarian like mine did a few weeks ago, it is easy enough to leave the chicken out for a tasty, calorie laden vegetarian option.
Luscious Caramelized Onion, Portobello Mushroom and Chicken Lasagna
Ingredients:
1 box

dry lasagna noodles

1 pound

fresh mozzarella cheese, grated

1/4 cup/ 1/4 cup/ 1/4 cup

butter

1/4 cup/1/4 cup/ 1-2 T.

olive oil

5 pounds

Walla Walla sweet onions, thinly sliced

1 T.

sugar

2 t.

fresh thyme, chopped (or 1 t. dried thyme)

1 1/2 pounds

portobello mushrooms, stems discarded, and caps chopped into chunks

4-5

skinless boneless chicken breasts, chopped into small chunks

2

garlic cloves, minced

2

shallots, minced

1/4 cup

flour

2 cups

whole milk

1 cup

whipping cream

salt and

pepper
Cooking Directions:
Cook the lasagna noodles al dente per the box with a little olive oil and salt.
To caramelize the onions: Heat 1/4 cup butter and 1/4 oil in a large pan over medium heat. Add the onions, cover and cook, stirring occasionally, for 10 to 15 minutes utnil the onions are limp. Reduce the heat, remove the lid and add the sugar and cook uncovered, stirring frequently, until the onions are brown – 45 to 55 minutes.
Portobello mushrooms: Melt 1/4 butter and 1/4 oil in large pan. Add mushrooms and saute until mushrooms are tender. Salt generously.
Chicken: Heat 2 T. olive oil and add garlic. Saute about a minute and then add chicken and saute until cooked. Salt and pepper to taste.
Bechamel Sauce: Melt 1/4 cup butter in a medium pan over medium low heat. Add the shallots and saute until soft- about 5 minutes. Add the flour and cook for about 3 minutes, stirring constantly. Raise heat to medium and slowly whisk in milk and cream. Reduce heat and simmer, whisking frequently, until sauce thickens – about 8 to 10 minutes. Add salt and pepper to taste.
To assemble: Spread 1/2 cup of the sauce on the bottom of a Pammed 9×13 baking dish. Cover with a layer of noodles. Top noodle layer with 1/3 of remaining sauce, 1/2 of onions, 1/2 of mushrooms, 1/2 of chicken and 1/2 of cheese. Cover with another layer of noodles and top with 1/3 of remaining sauce, 1/2 of onions, 1/2 of mushrooms, 1/2 of chicken and 1/2 of cheese. Top with layer of noodles and remaining bechamel sauce.
Cover with foil and bake at 350 degrees for 30 minutes. Remove the foil and bake until the top starts to brown, about 10 more minutes. Feel free to broil if necessary.
Enjoy!