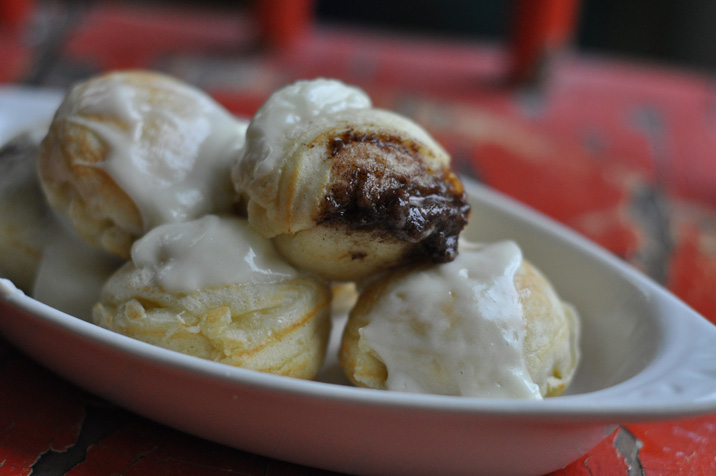 Do you ever have those days where you just don't feel like cooking dinner? Well, I must confess, I have them a lot.  Feeding your family cereal or peanut butter and jelly sandwiches is just too guilt inducing – my mother would be appalled. Days like this call for "brinner" – breakfast for dinner. We're a bisquick family – so "brinner" is synonymous with "waffles" at our house and we probably have it more than we should…. Now, ebelskivers take brinner to a whole new level. They are a little bit more time consuming than bisquick waffles, so they make brinner extra special and make me seem like a pretty together mom ( I try to keep them fooled!).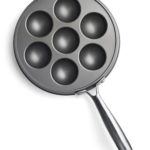 So, ebelskivers are those little puffy, spherical filled danish pancakes that you may have seen in the Williams Sonoma catalogue.  You read the catalogue, you look at the breathtaking picture of ebelskivers,your mother gives you a birthday gift card to Williams Sonoma, and you think, "I totally need one of those pans to make my children a wonderful ebelskiver breakfast every morning" and you buy one.  You are doing well if you actually use it once every six months.  I received a tagine for Christmas from my sister in law several years ago.  I love it, but I have only used it twice.  Okay, I know I'm going off on a tangent here, but home cooks of America should really be uniting and forming fancy pan co-ops so we can share all of our underused cookware.
Okay, back to ebelskivers.  We have actually used our ebelskiver pan twice this month. They are tasty little treats. They can be filled with jam or chocolate, amongst other wonderful things. Williams Sonoma has a recipe for cinnamon filled ones with a cream cheese topping.  Beat that for brinner.  Mr. D made our last batch and they were y-u-m-m-y! So, here is our recipe for cinnamon filled ebelskivers with cream cheese frosting from the Williams Sonoma catalogue. Just give me a call to borrow the ebelskiver pan….
Cinnamon Filled Ebelskivers with Cream Cheese Frosting
Ingredients:
For the pancakes

***************************

2 cup

flour

1 t.

baking powder

1/2 t.

salt

1 T.

sugar

4

eggs, separated

2 cups

milk

4 T.

butter, melted (plus more for cooking)

For the cinnamon filling

***************************

1/2 cup

sugar

2 T.

flour

2 T.

cinnamon

1/4 t.

salt

4 T.

butter, cut into 1/2 cube at room temp.

For the cream cheese frosting

***************************

3 oz.

cream cheese,at room temp.

4 T.

butter, at room temp.

1 1/2 cup

powdered sugar

3-4 T.

milk
Cooking Directions:
For the pancakes: Mix together the flour, baking powder, salt and sugar.
In another bowl lightly whisk the egg yolks and the add the milk and melted butter.
In another bowl beat the egg whites until stiff peaks form , but not dry ones.
Whisk the egg yolk mixture into the flour mixture. Mix thoroughly, then gently fold in the egg whites.
Put a dab of butter in each well of the ebelskiver pan heating over medium heat. Put 1 T. batter in each well, followed by 1/2 t. of the cinnamon filling, followed by another tablespoon of batter on top. Cook 2-3 minutes until bottom is browned and then with 2 skewers flip the pancakes and cook another 2-3 minutes until this side is brown. Transfer to a plate and make another batch.
Drizzle the pancakes with the frosting. Yum!
Cinnamon Filling: In a bowl mash together the sugar, flour, cinnamon, salt and butter until it is like a paste.
Cream Cheese Frosting: Beat together cream cheese and butter until light and fluffy. Add the sugar and bear on low speed another 1-2 minutes. Add the milk and beat until combined. Add more milk as necessary to thin it.