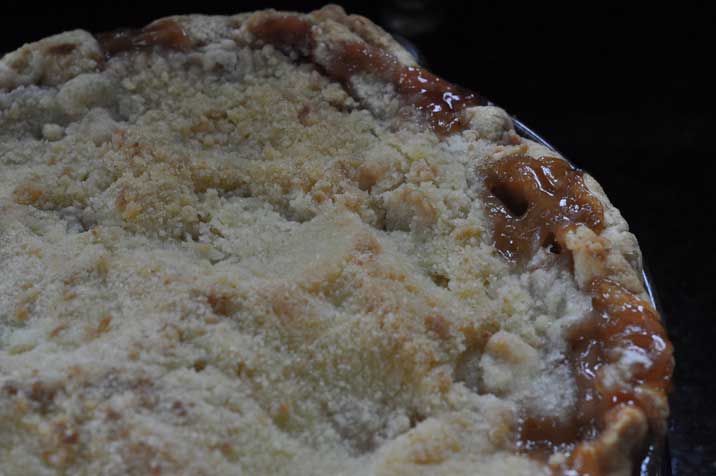 We're nearing the end of the fresh peaches in our area, so I decided to try out a couple of new peach pie recipes for Sunday dinner with my parents.
The first pie, peach crumb pie, is a new take on my now familiar crumb pie recipe.  The kids love this pie, because of the extraordinarily delicious topping. I tend to agree with them, it is pretty darn good. Feel free to adjust the sugars added to the peaches, if your peaches are really sweet I might take it down to a total of 3/4 cup, if they are not quite ripe, you may need more than a cup.
I adapted the second recipe out of a book I got while in Spokane visiting the Farm Chicks. I love this book! It is Farm Journal's Complete Pie Cookbook published in 1965 and it originally belonged to Ramona Harper. There are literally hundreds of new pies for me to make from this book. Oh my, I don't know if my waistline is up to the challenge….Anyways, I found this interesting "national bake-off winning" peach pie recipe in my new book. The original recipe called for using canned peaches, but I substituted fresh ones as noted in the recipe. The pie pastry added peach juice as the binding ingredient which was interesting, but I don't know if i made it taste any better. I really liked this pie, the end product had a custardy cream cheese layer between the peaches and top crust. Yum! I have to tell you, though, my dearest Mother said, "I really like that Brown Sugar Cinnamon Peach Pie you make." Translation: "Why did you make this stinkin' pie, I like that other one better!" She didn't quite appreciate it as much as I did…..
Peach Crumb Pie
Ingredients:
5-6

ripe peaches, peeled and thinly sliced

3/4 cup

brown sugar

1/4 cup

white sugar

1/4 cup

flour

2 T.

butter, cut into small chunks

1 cup

sugar

1 cup

flour

1/2 cup( 1 stick)

cold butter, cut into small chunks

pastry

for 1 crust pie
Cooking Directions:
Peach peeling hint: I drop them in boiling for a minute or two and then remove them and run cold water over them. This works for me…
Mix together peaches,brown sugar, 1/4 cup white sugar and 1/4 cup flour.
Line 9 inch pie pan with bottom crust, crimp edges.
Fill crust with peach mixture and dot with the 2 T. of buttr.
Bake at 375 degrees for 30 minutes.
Meanwhile, cut together 1 cup sugar, 1 cup flour and 1 stick of butter until you have a crumbly mixture. After pie is done baking for 30 minutes, remove from oven and top with this crumb mixture.
Bake at 375 degrees for another 30 minutes or until juices are really bubbling.
Yum!
Champion Peach Pie
adapted from The Complete Pie Cookbook from the Farm Journal, 1965
Ingredients:
6-7 T.

peach juice from canned peaches

2 cups

flour

1 t.

salt

2/3 cup

vegetable shortening

1 lb,13 oz canned peaches or

4-6 fresh peaches, peeled and thinly sliced

1/2 cup sugar (using canned peaches) or

1 cup sugar (using fresh peaches)

2 T.

corn syrup

2 T. (if using canned) or 4 T. (if fresh)

cornstarch

2 t .

pumpkin pie spice

1 T.

vanilla

2 T.

butter, cut into small chunks

2

eggs, slightly beaten

1/3 cup

sugar

1 pkg (8 oz)

cream cheese, softened

1/2 cup

sour cream

1 T.

lemon juice
Cooking Directions:
Make the crust by mixing the flour with the salt and cutting in shortening until crumbly. Add peach juice a little at a time until it all holds together. Roll our half the dough to line the bottom of a 9 inch pie pan.
Combine peaches, sugar, cornstarch, corn syrup, spice and vanilla. Place on top of the bottom crust.
Combine the eggs, 1/3 cup sugar and 2 T. peach juice from can in a saucepan and heat, stirring constantly until the mixture thickens. Remove from heat.
Mix together the cream cheese, sour cream and lemon juice. Gradually, beat the hot mixture into the cream cheese mixture. Spread this mixture over the top of the peaches.
Roll out the top crust and place it on top. Prick with a fork to vent it. Brush with peach juice if you so desire.
Bake at 425 degrees for 10 minutes. Reduce to 350 and cook for 30 to 35 more minutes. You will probably need to cover the edges with foil the last 20 minutes so the edges do not get too brown.