Coco is my picky eater.  Luckily (or un-luckily) for her she is the third child, eleven years younger than Miss G.,  and frankly I am not as vigilant about her diet as I was with her siblings.  She seems to be growing and doing well at school so I am not going to worry too much about it.  Well, I guess there was the baby root canal incident, but that was her father's fault and a whole different story…..  I will admit that I am not capable enough as a mother to cater to her picky appetite, besides I don't want to.  I subscribe to the philosophy of what my kids learned in kindergarten: "you get what you get, and you don't throw a fit".  The child would eat noodles everyday if she had her druthers.  I am not totally heartless, though, I am always thrilled when I make something she actually likes and chicken piccata falls in that rare category.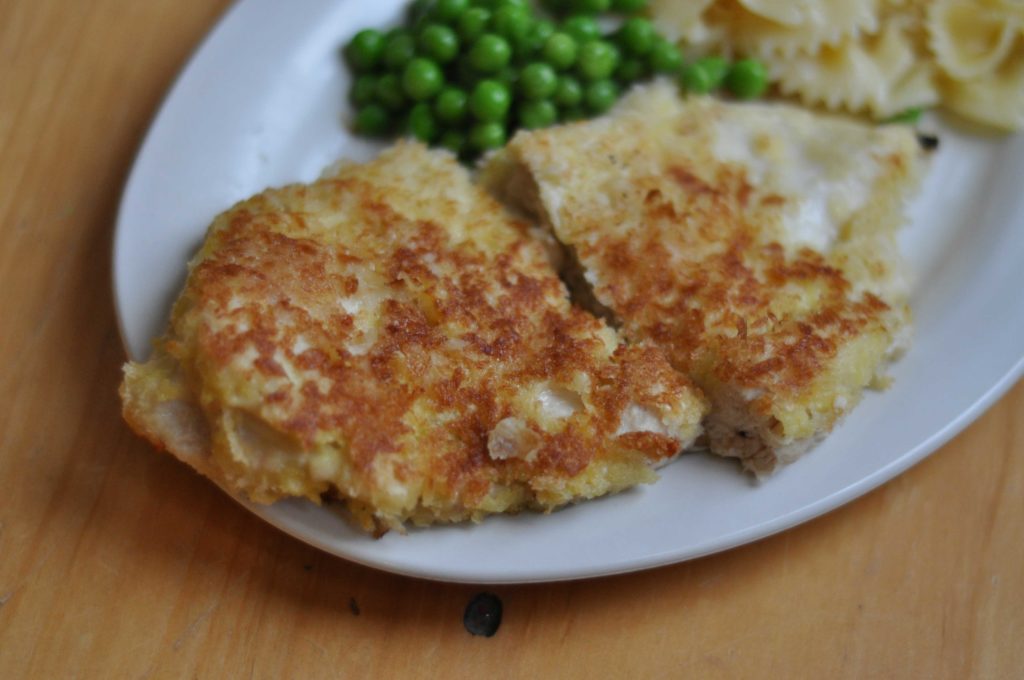 Chicken Piccata
Ingredients:
6

boneless skinless chicken breasts

1 cup

flours

3

eggs

2

cups seasoned dried breadcrumbs

kosher salt and pepper

olive oil

2 T./4 T.

butter, at room temp

2/3 cup (4 lemons)

lemon juice, fresh squeezed

1 cup

white wine

3 T.

capers

3 T.

italian parsley, chopped (if you have it for prettiness)
Cooking Directions:
Pre heat the oven to 400 degrees.
Flatten the chicken breast to about 1/4\". I do it by placing the chicken between plastic wrap and pounding with a rolling pin.
Put the flour, 1 t. of salt and 1/2 t. pepper on a shallow plate.
Beat the eggs with 1 1/2 T. of water in a shallow bowl.
Put the breadcrumbs on another shallow plate.
Dip each flattened breast in the the flour, fully coat with the egg and then dip it in the bread crumbs.
Brown 2 chicken breasts at a time in a large saute pan with 2 T. of olive oil for about 2 minutes each side. Repeat until all are done.
Place the chicken on a baking sheet and bake for 5 to 10 minutes until done.
Wipe out the pan and melt 2 T. of butter and then add the lemon juice, wine, 1/2 t. salt and 1/4 t. pepper. Boil over high heat until reduced by half. Take off the heat and whisk in 4 T. butter. Add the capers. Add more salt to taste.
Plate chicken with sauce drizzled over the top and sprinke with the parsley.