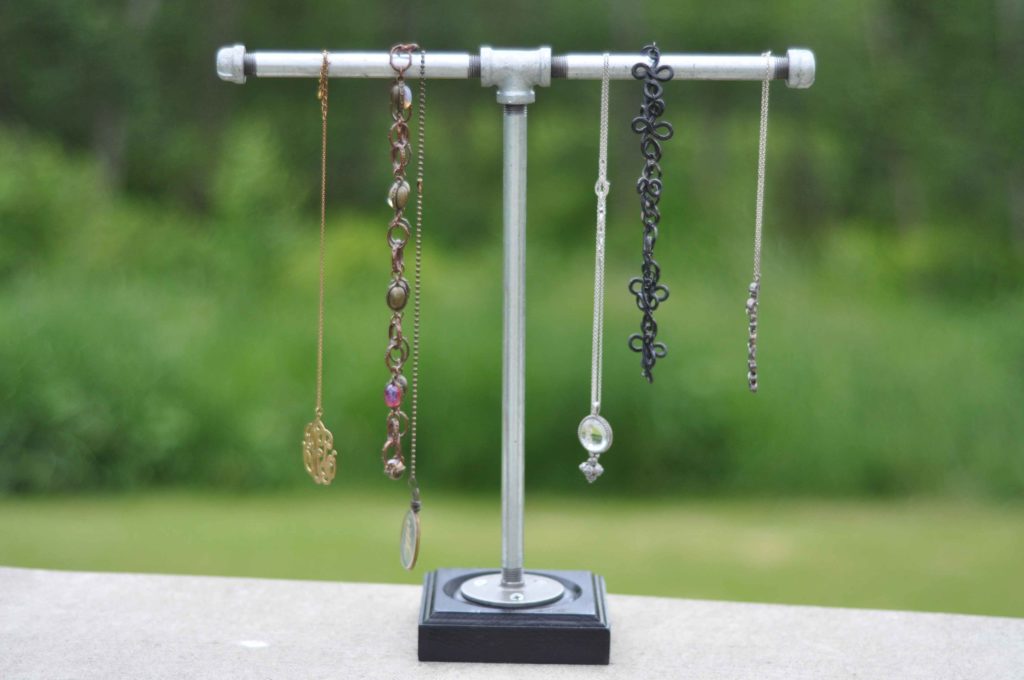 So, last week in Spokane, I saw these industrial looking contraptions made out of plumbing pipe for hanging pictures and such.  I love all things industrial and thought to my self, "Hmmmm, this doesn't look complicated and I think any idiot (including myself) could make something similar". 
Off to the plumbing aisle of my local hardware store I went. This is the best project because everything screws together and the possibilities are endless. I actually built my industrial necklace holder/ recipe holder right there on the floor of the aisle – it was great fun and really only took about a minute.
These are the parts I bought for this project, the plumbing parts totalled about $20 and the wood base cost $5:
1/4″ galvanized tee
(2)1/4″ x6″ galvanized nipples
(2) 1/4″ galvanized caps
(1) steel floor flange
(1) 4 1/2″x4 1/2″ wood base (I bought a square rosette door moulding piece)
(3) 5/8″ long wood screws
This is what I did :
I painted the wood base black
I screwed the floor flange to the wood base with the screws.
I screwed all of the other parts together per the picture and screwed this to the flange.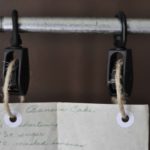 But, then I decided I didn't really need a necklace holder, but a recipe holder would be sweet.  All I needed was to add something to attach the recipes to. I do like hardware parts, especially pulleys, so I decided to paint some little pulleys and use them along with some twine to hold my vintage recipes up. I kind of like it myself….what do you think?