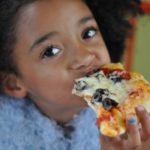 This pizza dough is so easy to make and so, so good.  I usually double the recipe and freeze any leftovers.
I used to be afraid of making bread or pizza dough because I never had the patience to knead it well enough.  Then,  I discovered the kitchen aid mixer!  It makes  kneading dough so easy.  Let me warn you now, as a woman who has personally killed two kitchen aid mixers…never mix bread dough  at a speed higher than 2 and you don't need to mix it as long as you would by hand. Thank heavens Kitchen Aid mixers have great warranties and service.
I found this recipe in Sunset Magazine (August 2009) and it's a keeper.  The original called for grilling the pizza, but I just bake it.  I adapted a pizza sauce recipe from the same article.
Practically Perfect Pizza Dough
Ingredients:
1 package

active dry yeast

1/4 cup

olive oil

4 cups

flour

1 1/2 t.

salt
Cooking Directions:
In the bowl of a stand mixer, stir yeast into 1 1/2 cups warm water. Let stand about 5 minutes.
Add the oil, flour and salt. Mix with the dough hook on speed 1 to blend. Then mix on speed 2 until dough is very smooth and elastic, 8 to 10 minutes. Dough will still feel tacky.
At this point,if you want to make this ahead of time, you can refrigerate at least 3 hours and up to 2 days. Dough will double in size and flavor will develop as it stands.
Cover and let rise at room temperature until doubled in bulk – about 1 1/2 hours.
Punch down dough and let rise again until doubled – 30 to 45 minutes.
Turn dough onto a floured work surface and cut into 6 equal portions. For each pizza, lay a sheet of parchment on work surface and flatten dough portions with well oiled hand into 9 to 10 inch rounds. Let dough stand until puffy , about 15 minutes.
Spread about 2 T. of pizza sauce to top and the top with your favorite toppings.
Fit as many parchments with pizza as you can on top of a large baking sheet.
Bake at 450 degrees for 14 -16 minutes.