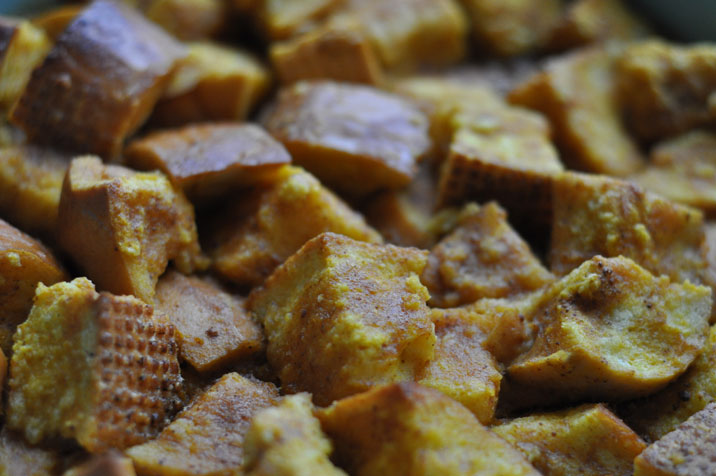 My kids love when Thanksgiving rolls around – mainly because of this pumpkin bread pudding. Oh, they love their Aunt Laureen's turkey and stuffing and especially her glazed carrots, and their Auntie's raspberry jello salad, but their heart belongs to pumpkin bread pudding. I have to admit, I am not the biggest pumpkin fan, but mix it with  bread, sugar, butter and cream and top it with a caramel sauce and I'm in heaven.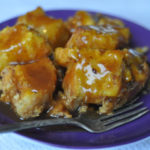 I wanted to get this recipe out before Thanksgiving so you all could try it.  Of course, I double this recipe and one fat Italian baguette suffices for the bread. I don't have maple sugar and couldn't even find it at my grocery store, so I just used brown sugar instead. Frankly, I don't even know what maple sugar is. Also, I left the bourbon out, to no detriment to the recipe. Also, I should warn you – this is rather and ugly looking dish, but as we all know- looks can be deceiving and it's the inside that counts. It does look much more appetizing  once the caramel sauce is drizzled on and I think you'll agree that it tastes magnificent. Happy Thanksgiving!
Pumpkin Bread Pudding with Maple Caramel Sauce
adapted from Gourmet (October 2007)
Ingredients:
2 large

eggs plus 1 yolk

1 cup

heavy cream

1/2 cup

milk

3/4 cup

canned solid pack pumpkin

1/2 cup

sugar

1/4 t.

salt

1 t.

cinnamon

1/4 t.

ground ginger

1/8 t.

ground allspice

pinch of

ground cloves

5 cups, day old

baguette or crusty bread cut into 1 inch cubes

6 T. (3/4 stick)

butter, melted

********************

********************

1 cup

maple sugar (or brown sugar if you do not have any)

1/2 cup (1 stick)

butter

3/4 cup

heavy cream

1/4 cup

bourbon (optional)

1 t.

vanilla extract
Cooking Directions:
Whisk together eggs, cream, milk, pumpkin, sugar, salt, and spices in a bowl.
Toss bread cubes with butter in another bowl, then add the pumpkin mixture and toss to coat.
Transfer to an ungreased 8 inch square baking dish and bake at 350 degrees until custard is set – about 25-30 minutes.
Make sauce:
Stir maple sugar and butter in saucepan over medium heat until blended and smooth. Whisk in cream and bring to a boil. Reduce heat and simmer 5 minutes. Remove from heat and stir in bourbon and vanilla then simmer 1 more minute. Sauce can be made 3 days ahead – cover and refrigerate.