Yesterday was my birthday and the day I realized I had officially become my mother.  Don't get me wrong; I adore my mother and she's a great mom…I just never thought I would be her and inherit some of her slight imperfections.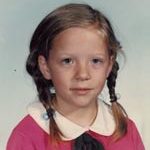 So, this is the background; if one were to look at my childhood school photos, classroom and individual, one would spot a pattern. The pattern of a certain child, me, in some years wearing the same outfit two or three years in a row, or wearing previously white, now grey, kneesocks around the ankles because of a lack of elastic in said kneesocks. The last pattern is that of unkempt hair, every year, most likely styled by the child herself. In short, instead of the perfectly middle class child I was, I looked like a downtrodden ragamuffin. My mother thought I was adorable.
I swore to myself that my children would always look cute and styled for school pictures. Miss G. -check, I did ok. Mr. D.- check, I did ok (this year's dashiki was not my idea), Coco – utter failure. The other day I sent Coco off to school. It was PE day, so she had dressed herself in a sporty basketball outfit. She had also styled her afro herself into two puffballs. She had missed some hair, and they were slightly crooked, but I thought to myself, "It's good she's trying to style her own hair, it's cute in it's own haphazard fashion & it's not as if it's picture day". She came home that afternoon with a picture packet because I had forgotten to send it in that day, that day being PICTURE DAY! I had succeeded in becoming my mother. The more I thought about it, the more I realized it was true; my mother had a hoarder's paradise she called her "sewing room", I have a hoarder's paradise I call our "craft room"; she tears out recipes from magazines incessantly, me -ditto; she has read all of Agatha Christie's books, me – ditto. She loves lemon bars – I love lemon bars. Oh my gosh, let's just face it, I'm her. So, in one day I became my mother and on top of that my computer got a horrible virus that took me hours to take care of, and I found more grey hair since I'm a year older! Not a great day, until my dear pastry chef friend Jill dropped by with this fabulous delicacy that I first tasted in NYC – Rainbow Cookies. Rainbow cookies are more like little cakes than cookies. They consist of 3 thin layers of almond flavored sponge cake (colored green, red and white like the Italian flag) layered with raspberry and apricot jam and covered in chocolate.  Jill made mine in fancy star shapes, but typically they are cut like rectangular bars. Any way you make them, they are D-licious!
Jills Italian Rainbow Cookies
From the recipe files of Jill Borgida
Ingredients:
4

eggs, separated

8 oz.

almond paste, chopped up

1 cup

butter, softened

1 cup

sugar

2 cups

flour

green and

red food coloring

1/4 cup

apricot jam

1/4 cup

raspberry jam

6 oz.

chocolate chips
Cooking Directions:
Beat egg whites until soft peaks form; set aside.
In large stand mixer, cream together well almond paste, butter, sugar and egg yolks. With a spatula fold in the egg whites.
Divide the batter evenly among three bowls. Mix red coloring into one bowl, green in another and leave the third bowl plain.
Cover the bottoms of three 9×12 cookie sheets with wax or parchment paper, ends overhanging. Spread one of the mixtures in each of the pans.
Bake the layers at 325 degrees for 5 to 8 minutes. Let cool in pans.
Heat up both of the jams. On top of the white layer, spread the apricot jam. On top of the green layer, spread the raspberry jam.
Carefully flip the white layer over onto the red and remove the paper. Then flip the green layer on top of the white layer and leave the paper on. Cover with aluminum foil.
Weigh down the layers with heavy items (i.e. cookbooks) to flatten; refrigerate at least 4 hours or overnight.
Peel off foil and wax paper and allow to sit 15 minutes. Heat chocolate chips until melted and spread on top; let sit another 15 minutes. Trim edges to even out layers. Cut into rectangles.