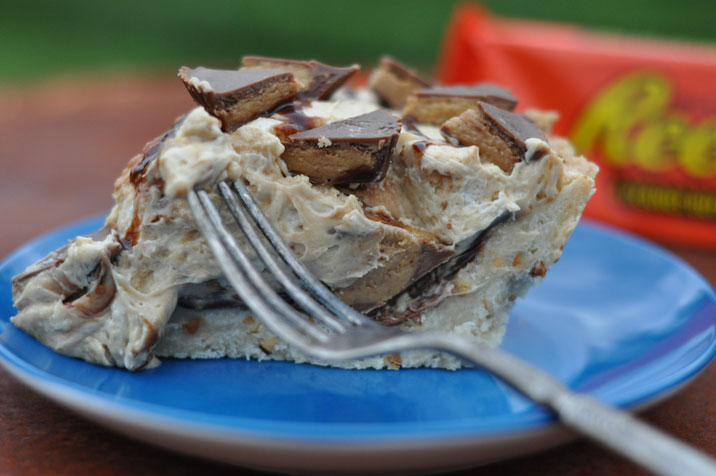 Isn't it amazing how procrastination works.  Every year, I resolve to fight it, but by June my best intentions have been led astray. Currently, I have a load in the wash with roughly five more loads to do on top of the five loads that have been patiently waiting for weeks in the hallway to be folded.Ugggh!  I was supposed to start this endeavor last night, but I would much rather be designing or reading or taking pictures or playing tennis or making a reeses peanut butter cup pie.
Now, I have to admit, peanut butter is not my first choice for a pie.  However, my friend, Rita, loves peanut butter pie and I succumbed to her peer pressure. I came up with this very tasty peanut butter pie concoction, if I do say so myself.  I added chocolate to it, because chocolate makes everything better. I will warn you now – it is extremely rich.  The other thing this pie has going for it is that you can eat it without guilt because of all the protein in it. I just finished a piece of it for breakfast – totally yummy- and I'm feeling strong already because of that protein.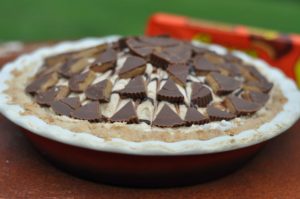 Reeses Peanut Butter Cup Pie
Ingredients:
Crust

*****************************

2 cups

flour

1 cup

butter, melted

1 cup

roasted, non salted peanuts, chopped up

1/2 to 3/4 cup

sugar

Chocolate

Layer *********************

1 large (4.4 oz)

hersheys milk chocolate bar, broken up

3 T.

whipping cream

4

king size reeses cups, chopped up

Filling

******************************

1 pkg (8 oz)

cream cheese, softened

1 cup

confectioners sugar

1 cup

creamy peanut butter

1/3 cup/ 1 cup

whipping cream

1 t./ 1 t.

vanilla

1 T.

sugar

3 packages king size (4 cups in each)

reeses peanut butter cups, each cut into 6 pie like pieces or a whole bunch of miniature whole ones

a little bit of

hersheys syrup
Cooking Directions:
For the crust – mix together flour, butter, peanuts and sugar. Press into a 9 inch pie pan. You will have leftovers. Bake for 15 minutes at 375 degrees. Cool.
Melt the hershey bar in the microwave then mix in the cream. Spread in the bottom and a little bit up the sides of the cooled pie crust. Sprinkle chopped up reeses on top. Place in freezer for about a half an hour.
Beat together cream cheese and confectioners sugar. Add peanut butter, 1/3 cup whipping cream, and 1 t. vanilla, beating until blended.
Beat 1 cup whipping cream with 1 t. vanilla and 1 T. sugar on until soft peaks form.
Fold whipping cream into peanut butter mixture. Spread over chocolate layer in pie crust. Freeze 30 minutes until slightly firm.
Drizzle hershey syrup over the top and artfully arrange the cut up reeses peanut butter cups on top.
Cover and chill for at least an hour.
Do not eat too much!