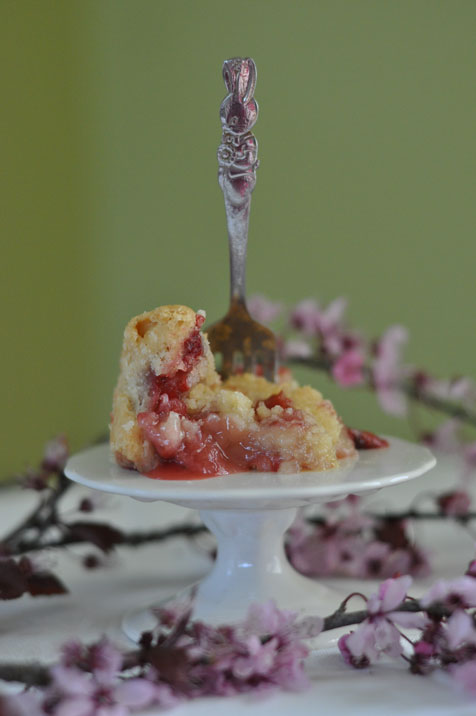 The other pie I made this past Easter was a strawberry rhubarb crumb pie. Whoever thought to add strawberries to rhubarb was a genius. This was a perfect pie for spring. It was so good! I am in love with crumb pies. This one was a little juicy because of the strawberries, so when I make it again I will add 2 T. of cornstarch.
Strawberry Rhubarb Crumb Pie
Ingredients:
32 oz. (about 4 cups)

strawberries, chopped up

2 cups (4-5 stalks)

rhubarb, chopped up

1 cup/ 1 cup

sugar

1/4 cup/ 1 cup

flour

8 T. (1 stick)

cold butter, cut up into small chunks

1 recipe

of your favorite pie crust

plus another 2 T.

of cornstarch for good measure?
Cooking Directions:
Line a 9 inch pie pan with the pie crust and flute the edges.
In a large bowl combine the strawberries, rhubarb, 1 cup sugar and 1/4 cup flour ( and optional extra 2 T. of cornstarch) and then place in the pie shell, smoothing out the fruit.
Bake for 30 minutes at 400 degrees.
Meanwhile, in a large bowl cut the butter into the combined 1 cup flour and 1 cup flour until it resemble coarse crumbs. You may have to use your hands.
When the pie is done with its first 30 minutes of baking, remove it and sprad the topping over it, reduce the oven to 375 and bake for another 25 to 30 minutes until the top is golden and the juices bubbling. If you need to bake it longer, cover with foil to keep from overbrowning. The bubbling juices are the key!
Allow to cool for 2 hours before devouring.