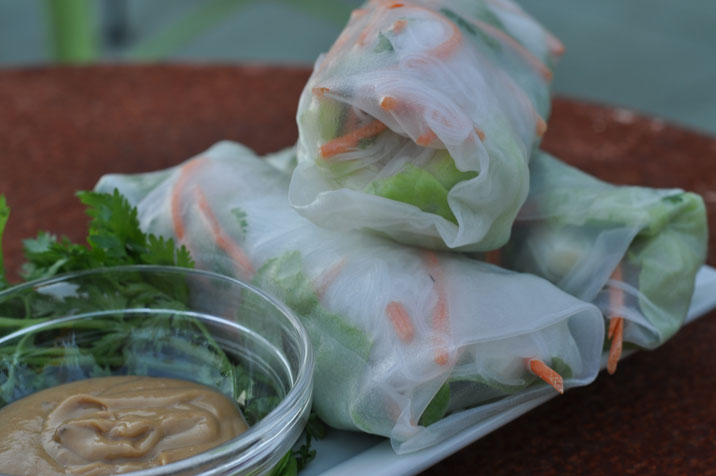 Well, I'll never be accused of making the prettiest Vietnamese Summer Rolls aka Salad Rolls, but they sure taste good. I serve this appetizer as a refreshing summer time meal when I don't feel like slaving over a hot stove.  They're super easy to make and gluten-free eaters – you can eat these! I like to serve them with both peanut sauce and sweet fish sauce.
Also, sometimes I will make these with just shrimp. Sometimes, I will just use leftover chicken breast….It's all good. The wrapping is really not difficult; think burrito and you'll do fine.
Peanut Sauce
Ingredients:
3/4 cup

water

1/4 cup

hoisin sauce

1 T.

tamarind juice

1/2 cup

crunchy peanut butter
Cooking Directions:
Thoroughly mix all of the ingredients together in a bowl. Done.
Sweet Fish Sauce
Ingredients:
2- 3

finger length chilies, deseeded & sliced (I skip these)

3

cloves garlic

1/4 cup

sugar

3 T.

fresh lime juice

1 T.

vinegar

3 T.

fish sauce

1/2 cup

water

1/2 t.

salt
Cooking Directions:
Grind the chilies and garlic to a coarse paste in a mortar or food processor and then combine with all of the other ingredients. Mix until the sugar is dissolved.
Vietnamese Summer Rolls aka Salad Rolls
adapted from Vietnamese Cooking Made Easy
Ingredients:
12 (8 in. dia.)

dried rice paper wrappers

1 4oz. package

rice vermicelli, blanced for 1-2 minutes until soft and then rinsed in cold water

1

cucumber, peeled, seeded and thinly sliced

1

carrot, grated or equivalent of prepackaged matchstick carrots

1 bunch

cilantro

1 bunch

thai basil

fresh cooked medium/ large

shrimp

chinese style

barbeque pork, cut into thin strips

1 small

butter lettuce, leaves washed and separated
Cooking Directions:
To make one summer roll:
Fill a bowl (a pie pan is perfect) with lukewarm water. Place a rice paper wrapper in it until it is soft. Remove and place flat on a dry surface.
Place a lettuce leaf onto the wrapper, closer to one edge, and top with some pork strips, rice vermicelli, cucumber, carrot and basil. Fold the closest edge of the wrapper over the filling, then fold in the sides and roll up half way. Place 2 or 3 shrimp side by side, along the roll and top with some cilantro. Then continue to roll up tightly to complete the folding.
Repeat for the next one.
Serve with the peanut sauce and sweet fish sauce.