The Lt. goes to Alaska every summer for salmon fishing.  I love it because I love having a freezer full of salmon.  I'm always trying new salmon recipes because when you have a freezer full you're eating it at least once a week.  This is my standby recipe when I'm just feeling lazy…I served it tonight with cauliflower gratin and roasted green beans.  I bought my cedar plank at a cooking store, but you can use any untreated cedar plank.  I advise you not to grill with it, because I tried that once and the bottom half of my plank is now charcoal.  Soaking the plank is key because it releases a cedar infused steam in the oven that smells heavenly and makes the salmon super moist and cedar-y.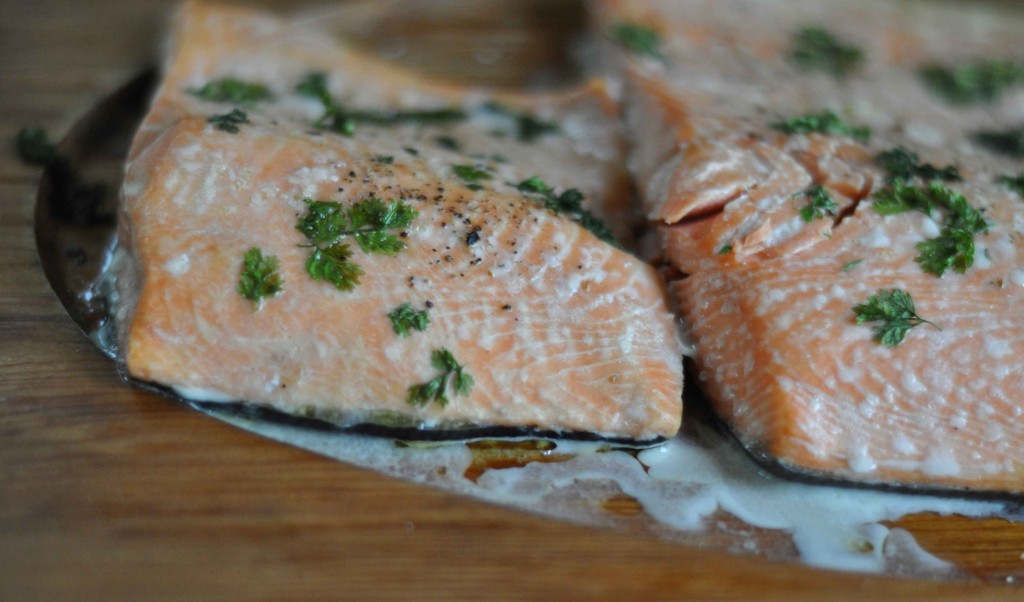 Simple Cedar Planked Salmon
Ingredients:
salmon fillets/halves to feed your family

Olive oil

salt and pepper

fresh herbs on hand, I had chervil today
Cooking Directions:
Soak your cedar plank in water for a few hours.
Place the salmon on the plank and spread olive oil over the fish.
Salt and pepper to taste and sprinkle on herbs if you like.
Cooking time will depend on the thickness of your salmon. Mine typically cook at 350 degrees for 20-30 minutes. Try not to overcook and remember that salmon will still cook for a little while when it is out of the oven.