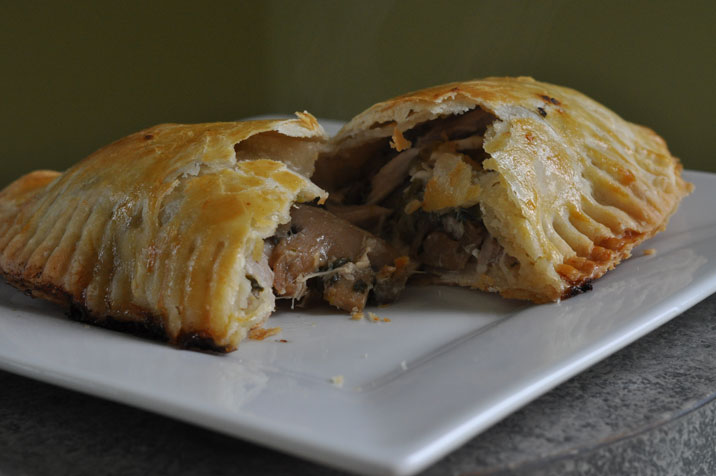 This summer I hosted a pie baking extravaganza for ten ladies that won it at the Seattle Children's Hospital Jayme Oliver Guild Auction. I wanted to demonstrate a mixture of sweet and savory pies, so I made spinach pie, Maine blueberry pie, Greek Diner banana cream pie, Mrs. Garrett's Chicken Pies and then the guests all made an apple raspberry crumb pie to take home and bake. I think a good time was had by all and we were all stuffed full of  pie by the time the night was over.
I love Saveur Magazine and I found the recipe for Mrs. Garrett's Chicken Pies in the Saveur Cooks Authentic American Cookbook.  I could not make the roux from the original recipe to save my life – I had to do it twice. Below, you will find the method that worked for me. The pastry making method was a  new one for me. My pastry did not end up like puff pastry as the book described, but it was very flaky and extremely tasty. These savory hand pies were a little labor intensive, but utterly delicious, especially the next day as left-overs, when the flavors seemed to intensify.
Mrs. Garretts Chicken Pies
adapted from Saveur Cooks Authentic American Cookbook
Ingredients:
1/4 cup/ 3-4T.

vegetable oil

1/2 cup

flour

water

as needed

1 large

yellow onion, finely chopped

(2) – 3 pound

chickens cut into 8 pieces (I used 6 pounds of thighs and breasts)

3 stalks

celery, finely chopped

1

green bell pepper, cored, seeded and finely chopped

(2) 4 oz. cans

button mushrooms, drained (I used sliced)

2

scallions, trimmed and chopped

1/2 cup

chopped fresh parsley

1 tsp

cayenne (I omit this)

salt

and pepper

***********for

pastry***********

9 cups

flour

1 T.

salt

1 3/4 cups

vegetable shortening

3

eggs, lightly beaten

3 cups

water
Cooking Directions:
For filling: whisk together oil and flour in a large heavy pot over medium heat. If you know how to make a roux – do it. Gradually whisk in water to make a free flowing sauce.
In another pan, carmelize onions in 3-4 T. of oil until golden. Add chicken to onions and brown on all sides. Add chicken, onions, celery and green pepper to the sauce in the heavy pot. Add enough water so everything is covered. Bring to a boil, reduce heat to low, cover, and simmer for 1 hour.
Remove chicken from pot, cool, and then shred meat. Add mushrooms, scallions, parsley and cayenne to the vegetables in the pot and season to taste with plenty of salt and pepper. Return shredded chicken to the pot. Mixture should be thick.
For the pastry: Combine 8 cups flour, salt and 1 cup shortening in a large bowl and cut mixture with a pastry cutter or 2 knives until it has the consistency of coarse meal. Mix in 3 cups water, 1/2 cup at a time until dough forms. Roll out dough into a large rectangle, spread with 1/2 cup shortening and sprinkle with 2 T. flour. Fold dough onto itself in 3 layers, like a letter. Spread with 1/4 cup shortening , sprinkle with 2 T. flour and fold into a square. Wrap in plastic and chill overnight.
Roll out dough on a floured surface and cut into 10 -7 inch circles or smaller ones if you prefer. Fill circles with chicken mixture. Brush edges with egg wash, then fold over to form a hearty turnover. Use a fork to crimps edges closed. Brush with egg wash.
Bake at 375 degrees for about 30 minutes.