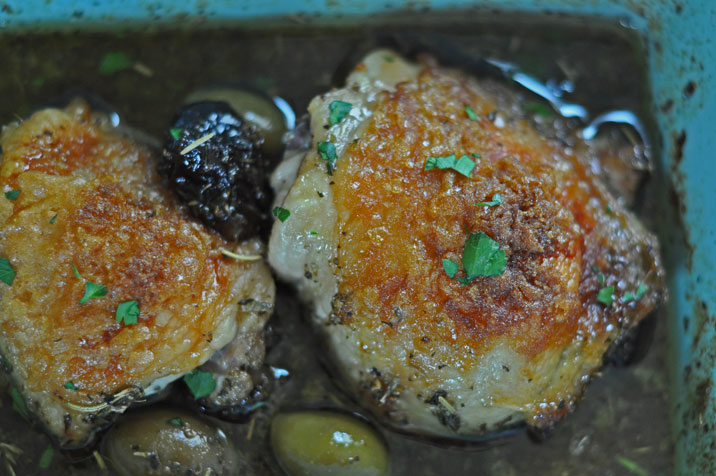 I first had Chicken Marbella when I made it at one of those make it and take it home frozen dinner places. Chicken, brown sugar, olives and prunes…who would've thought this would taste so good.  Researching a little, I found the recipe in my Silver Palate Cookbook, a classic cookbook from the eighties sitting on my bookshelf. This dish is easy – you can make it ahead of time and it looks and tastes like a fancy dish. The flavors are, frankly, fabulous. So, it is the perfect dish to impress future in-laws or Martha Stewart if she happens by. The Wilson children even like it, except for the prunes, of course.
Chicken Marbella
adapted from The Silver Palate Cookbook by Julee Rosso and Sheila Lukins
Ingredients:
4 -2 1/2 pound

chickens quartered (I used about 10 pounds thighs and breasts, I cut the breasts in half)

1 head

garlic, peeled and finely pureed

1/4 cup

oregano

1/2 cup

red wine vinegar

1/2 cup

olive oil

1 cup

pitted prunes

1/2 cup (I use 1 cup)

pitted spanish green olives (I\'ll mix some black ones in, also)

1/2 cup

capers with a bit of juice

6

bay leaves

1 cup

brown sugar

1 cup

white wine

1/4 cup

Italian parsley, finely chopped
Cooking Directions:
Combine chicken, garlic, oregano, salt and pepper, vinegar, olive oil, prunes, olives, capers and bay leaves in a large bowl. Cover and marinate overnight.
Arrange chicken in a single layer in two shallow baking dishes and spoon marinade over it evenly. Sprinkle the chicken with the brown sugar and pour white wine around them.
Bake at 350 degrees for 50 minutes to 1 hour, basting frequently with pan juices.
Remove chicken and prunes, olives and capers to a serving dish. Moisten with a little of the pan juices. Put remaining pan juice in a sauce boat to serve alongside the chicken. Sprinkle the chicken with the parsley.
Serves 10 or more easily.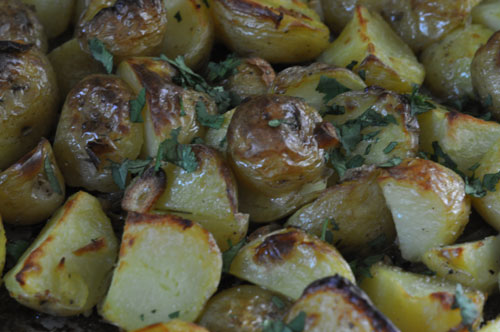 The last time I made Chicken Marbella, I served it with a green salad and  a Lebanese Roasted Potato dish from Claudia Roden's gorgeous cookbook, Arabesque. It was a wonderful pairing.
Roast Potatoes with Lemon and Coriander
From Arabesque by Claudia Roden
Ingredients:
1 kg

new potatoes, peeled or not (I like yukon gold)

4

garlic cloves, crushed

5-6 T.

extra virgin olive oil

1-1/2

lemons, juiced

large handful

coriander (cilantro), chopped

salt and

pepper to taste
Cooking Directions:
Boil the potatoes in salted water for 10 minutes. Drain.
Cut into pieces and place in baking dish, sprinkle and toss with the oil, salt and pepper and garlic to cover thoroughly.
Roast at 475 degrees for about 30 minutes until they are crisp and brown.
Take out and sprinkle with the lemon juice and coriander. Mix well.