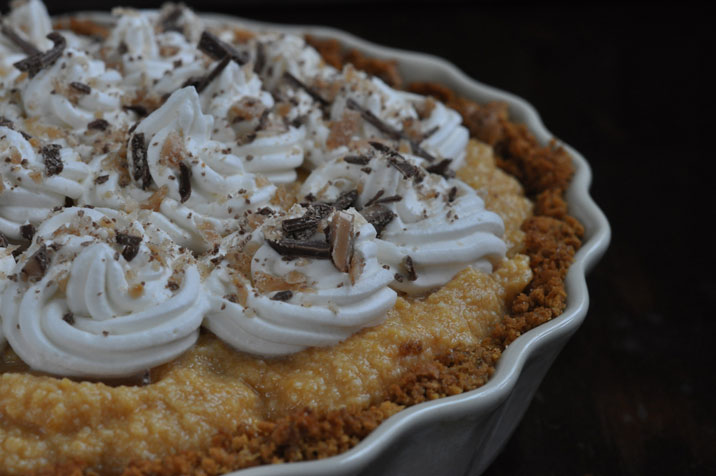 Well, it's only taken me a week and a half to recover from Thanksgiving and I didn't even host it! My sister in law, Laureen, did a glorious job as ususal and I just helped with a few  pies and Ina's infamous creamed spinach. I knew the adults would love the apple cranberry crumble pie and the kids would adore the cookie dough pie, so I knew could add a couple of experiments in the mix; black bottom pumpkin pie and pear custard pie with a macadamia nut crust. However, I did make sure Laureen had a plain Costco pumpkin pie on hand if the black bottom pumpkin pie was too avant-garde for her guests' Thanksgiving Day palates.
Now, I have to confess that pumpkin pie is not my favorite; nor is sullying chocolate with extraneous flavorings something I like to do. But, I saw the original recipe for black bottom pumpkin pie in Southern Living Magazine and thought it was an interesting flavor combination and sure to appeal to some. Sure enough, Mr. D. and Laureen really liked it. I simplified the original recipe by making a simple graham cracker crust rather than a graham-pecan-gingersnap crust and skipped the maple syrup sweetened whipped cream topping instead opting for plain old sugar sweetened whipped cream. It was a success! Thank Heavens!
Black Bottom Pumpkin Pie
based on a recipe from Southern Living (November 2012)
Ingredients:
2 cups

graham cracker crumbs

1/4 to 1/2 cup

sugar

1/2 cup

butter, melted

1 cup

semi-sweet chocolate chips

1/2 cup

whipping cream

(2) 1.4 oz. (plus another for garnishment)

chocolate covered toffe bars (like a Heath Bar), finely chopped

3/4 cup

sugar

1/3 cup

flour

2

eggs

4

egg yolks

2 cups

milk

1 cup

canned pumpkin

1 T.

vanilla extract

a pinch of

salt

sweetened

whipped cream
Cooking Directions:
Stir together graham cracker crumbs, 1/2 cup sugar and butter. Press mixture on bottom, sides and lip of pie pan. Bake at 350 degrees from10 minutes. Cool completely.
Microwave chocolate chips and 1/2 cup whipping cream in small bowl at high for 1 minute or until melted, checking at 30 second intervals. Mix together and spreade over bottom of cooled pie crust; sprinkle chopped candy bars over the chocolate. Cover and chill until chocolate is set; about an hour.
Whisk together sugar and flour in heavy saucepan; add eggs, yolks, and milk and keep on whisking. Cook over medium heat, whisking constantly until thickens (about 8-10 minutes). Remove from heat and whisk in pumpkin, vanilla and a pinch of salt to taste. Transfer to a bowl and chill for at least 30 minutes.
Spoon chilled pumpkin mixture over chocolate; cover and chill 8 to 24 hours until filling is firm.
Garnish with sweetened whipping cream & extra chopped up candy bars.