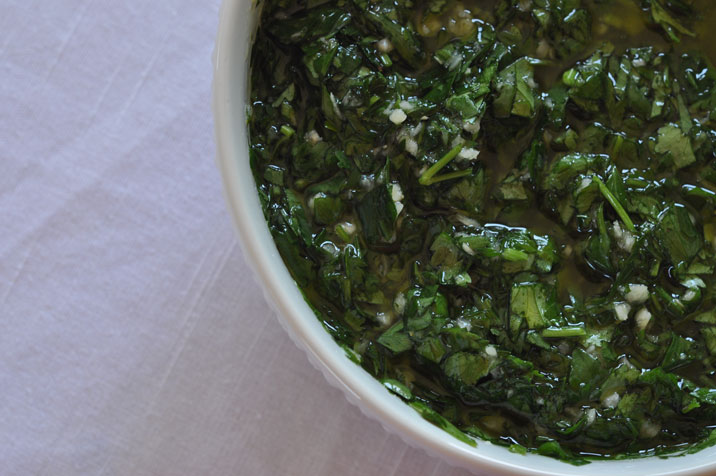 I absolutely love chimichurri sauce. It's green, garlic-y, and so very fresh tasting. Originating in Argentina, this version is from the Nordstrom Flavors Cookbook. Wimp that I am, I leave out the red pepper flakes and most of the black pepper….Reserve some to serve with your favorite grilled meat and use the rest to marinate your preferred meat for 12 to 24 hours.
Chimichurri Sauce
adapted from Nordstrom Flavors
Ingredients:
1 1/2 cup

flat leaf parsely, chopped

1 cup

olive oil

1/2 cup

cilantro, chopped

1/4 cup

apple cider vinegar

1/4 cup

garlic, chopped

3

green onions, white & light green parts only, sliced

2 t.

red pepper flakes (I say this is optional)

2 T.

fresh lime juice

1 T.

kosher salt

2 t.

fresh ground black pepper (I use less)
Cooking Directions:
In a large bowl, whisk all of the ingredients together. Use is as a marinade & sauce.