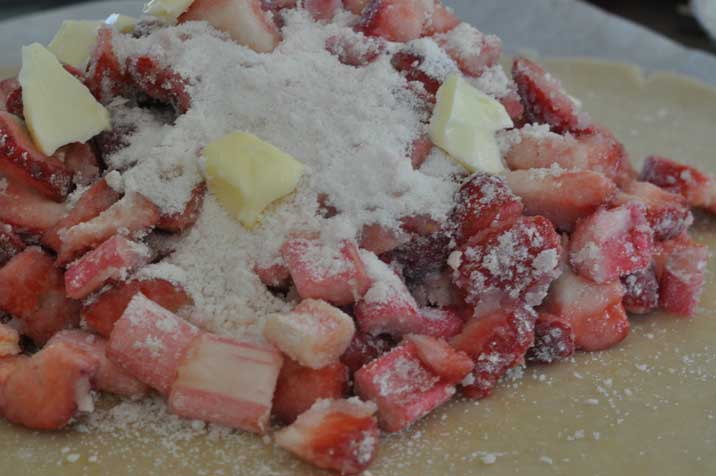 Galette:
1.  Definition for my mother's 1966 Larousse Gastonomique: Round cake make from  flaky pasty.
2. Definition from current American culture: Simple, free-form, rustic, single crust fruit pie.
3.  Definition from me: The lazy way to make a fruit pie.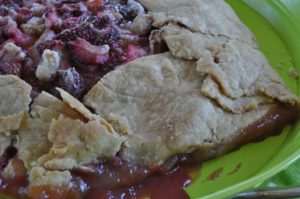 Sometimes, you want to make fruit pie, but it's one of those days; your son has just told you, you're looking very "rustic" when you're absolutely not trying to look "rustic", your college age daughter just thinks you're weird for sending her baby dried crabs and jackfruit chips in her care package and tells you not to do it again, and your second grader's panda mask is due the next day and she's supposed to be in charge, but your need to outdo all of the other second grade moms in the craft area rears its ugly head…Let's just say, its not a pretty day. Therefore, its not a day for pretty pie. It's a galette day.
Let's face it – somedays you just don't want to do all of that rolling and precision crust formation. The Galette is free from all of that fussiness, in fact is just a fancy word for sloppy  pie making and since I am the Queen of Sloppy, I'm pretty much an expert at Galette making. And…. I like them big. I typically use my Paige's pie crust recipe for the crust. I roll out enough to make an  approximately 18″ diameter circle, pile the prepared fruit it, dot it with butter and then haphazardly fold the crust up over the filling and bake. It does look very pretty, in an appropriately "rustic" way. The recipe below is for a strawberry rhubarb galette – but feel free to experiment; you can't go wrong with fruit. It's done when the juices are really bubbling; cover with foil to protect from overbrowning if necessary.
Strawberry Rhubarb Galette
Ingredients:
1 recipe of

pie pastry (I used one that called for 4 cups of flour)

2 cups

rhubarb, chopped into one inch long pieces

6 cup

strawberries, hulled and chopped into big chunks

1 1/2 cups

sugar

6 T.

flour & or cornstarch or a mixture of the two

4 T.

butter, chopped into little pieces
Cooking Directions:
Roll out pie pastry to 18 inch diameter on bigger sheet of parchment paper. It does not have to be perfect -it is a galette, remember?
Mix together rhubarb, strawberries, sugar and thickener. Pile into the middle of the pastry. Dot with the butter. Fold the pastry over the filling; it will not completely cover it. You can do this as artisically or not as you desire. I then pick up the parchment and transfer the whole thing to a large rimmed baking sheet.
Bake at 375 degrees. Check at 45 minutes. Keep checking every 5 or 10 minutes for doneness. Cover with foil if need be to keep from overbrowning. It is done when the juices are really bubbling.