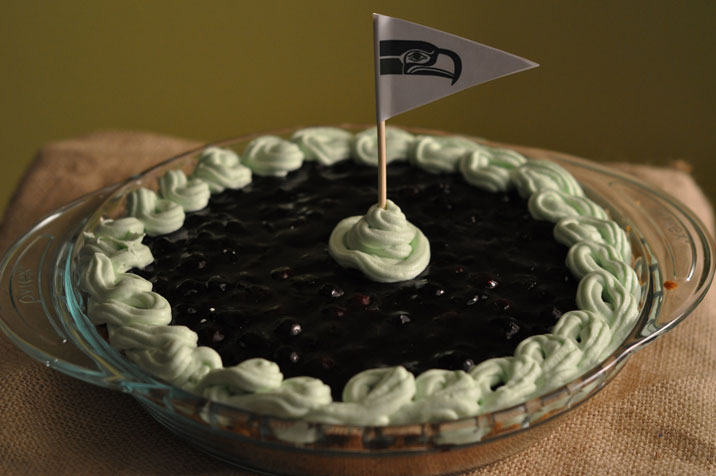 So, today I was pondering what to do with the 100 plus leftover fortune cookies from Mr. D's successful high school ASB vice principal campaign. And then, Euuuu-Reka!, it dawned on me. My team, the Seattle Seahawks, is playing in the super bowl tomorrow and what better way for me to show my support than to bake those fortune cookies into a lucky pie crust and to fill that crust with layers of the team colors- green(custard cream) and blue (blueberries) and finish it off with some green whipped cream?
I think we'll wait to eat the pie until after the victory is complete. I'll let you know how it goes….Go Hawks!
Postscript: The lucky crust failed….there's always next season!
Fortune Cookie Pie Crust
Ingredients:
28

fortune cookies, crushed to crumbs

6 T.

butter, melted
Cooking Directions:
Mix together crumbs and butter.
Press into bottom and sides of pie pan.
Bake at 375 degrees for 8 minutes
Lucky Seahawks Pie
Ingredients:
1

baked pie crust, use my fortune cookie crust if you want a really lucky pie

CREAM

LAYER:

1/4 cup

cornstarch

2/3 cup

sugar

1/4 t.

salt

1 1/2

cups whole milk

1/2

cup cream (you can use milk instead, if needed)

3

egg yolks, slightly beaten

2 T.

butter

1 t.

vanilla

green

food dye

BLUEBERRY

LAYER:

3 cups

blueberries, fresh or frozen

1 cup

sugar

1/4 cup

cornstarch

dash

salt

2 T.

butter

***********

****************

1 cup

whipping cream

2 t.

sugar

1 t.

vanilla

green

food dye
Cooking Directions:
Make cream layer:
Mix cornstarch, sugar and salt together. Whisk in milk/cream.
Cook in double boiler until thick, about 10 minutes, stirring constantly.
Slowly add a small amount of hot mixture to egg yolks and then stir egg yolk mixture into the hot mixture. Cook another 5 minutes.
Remove from heat and add butter, vanilla and green dye.
Cool and then spread a thick layer of custard on bottom of crust. You will have way too much custard, so you do not have to use it all in the pie….use the extra for pudding.
Blueberry Layer:
Bring 2 1/2 cups of the blueberries to a boil with the sugar, cornstarch and salt. Boil until thick and the glaze is translucent. Add the remaining 1/2 cup blueberries into the mix.
Remove from heat and add the butter. Cool.
Spread cooled blueberry mixture on top of custard cream layer.
Whip up the whipping cream with the sugar, vanilla and green dye until stiff.
Pipe as you desire on top of pie.
Go Hawk!