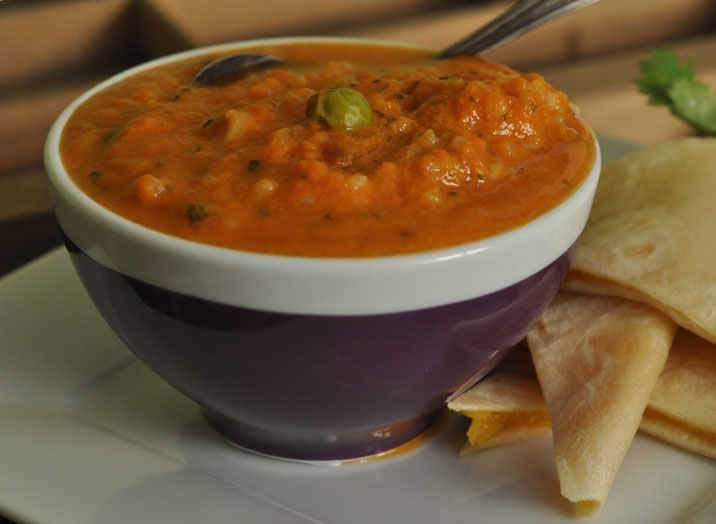 Well, it's been one of those weeks. Yesterday, a woman's worst nightmare happened to me. Yes, the one where the little innocent child looks at you and asks, "Is there a baby in your tummy?" This is a joyous question when there actually is a baby in your tummy, but when it's been seven years and you know for sure the baby has already come out, it's a truly depressing question.  I am hoping that after I am done eating my box of pepperidge farms raspberry turnovers, I will feel better enough to start planning a new diet for the new year. My friend Jill told me there's a new diet involving tapeworms that sounds interesting, but I'm thinking I will just do the one where you eat less and exercise more….So what do you make for dinner on days like this? It's going to be cereal or something very, very easy. Easy meals for hard days and Creamy Tomato Soup with Chimichurri Rice fits the bill.
Last Sunday, I tasted a scrumptious tomato and rice soup my most excellent friend, Lynn, made. Lynn is an extraordinary cook and I was sure it would be a fairly complex recipe. However, she laughed when I told her how good it was and could I have the recipe. She had recently gone to a party, had the soup, and requested the recipe. It ends up being the easiest recipe in the world just using two products from Trader Joe's. Lynn may never make homemade soup again. For that matter, I may not either. Everyone loves this soup – I hope you do, too.
Easy and Elegant Creamy Tomato and Chimichurri Rice Soup
Ingredients:
3 or 4 boxes (32 oz) (I used 3)

Trader Joes Organic Creamy Tomato Soup

2 packages (16 oz)

Trader Joes Chimichurri Rice (rust bag in frozen foods section)
Cooking Directions:
Combine soup and rice in a crockpot.
Cook as you would anything in a crockpot.
Yum!