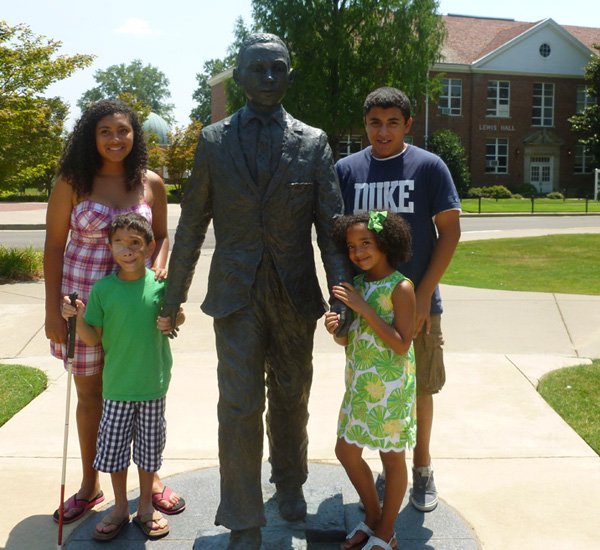 So, I hope you don't mind, but this is going to be a bit of a travelogue.  I had trouble finding college road trip information for this trip, so I thought I would go ahead and share what we did….and , of course, share a little recipe garnered on the way.
Last week, we returned home from our big summer vacation which was visiting the Lieutenant in Washington, DC (he's doing a stint at the FBI academy) for three days and a nine day college road trip for Miss G., a rising senior, through a little bit of North Carolina and a lot of Tennessee. In Washington, D.C. ,the main highlight for us was seeing the Lieutenant. It was also great for the kids to see the Capitol, the museums, the mall, the subway, the white house…… A secondary highlight for me was discovering krispy kreme bread pudding on our hotel's room service menu and of course ordering it. I will be trying to recreate this at a later date, in the meanwhile, Paula Deen has a similar recipe for   Krispy Kreme bread pudding, but hers has fruit cocktail in it.
After the Lieutenant went back to Quantico, my sister, Julie and her eight year old, Humoody , flew out to join us for the road trip portion of our trip. We rented a van and set off on the five hour journey to Burlington, North Carolina which is about ten minutes from Elon University. Of course, I am always obsessed worried about food on a trip like this. I like the kids to experience the different regional food wherever we go, so I had done a lot of research ahead of time.  Luckily, my size zero sister has absolutely no interest in food, so I got to choose most of our venues.   That night in Burlington, we went to  Hursey Bar-B-Q. The chopped barbeque with hushpuppies and coleslaw was excellent, as was the price and of course, the sweet tea. Then we went home to the Hampton Suites in Burlington for the night. Bright and early the next morning we went to visit Elon University:
Private- 5,032 undergraduates
Male:Female – 41%/59%
student/ faculty ratio: 13:1
professors with terminal degree: 86%
average class size: 21
freshman retention rate: 90%
6 year graduation rate: 81%
study abroad: 70%
avg. % students who stay on campus on weekends: 75%
% students living on campus: 58%
2010-11 Applications: 9,771
 Acceptance rate: 49%
SAT average: 1829 (3 parts)
(1218 critical reading & math)
Academic GPA: 3.94
US News Ranking: Regional Universities: #2 in the South
2010-2011 tuition/room/board/fees: $35,475
Elon's campus is absolutely gorgeous. The emerald grounds are maintained like a country club.  The stately red brick buildings with massive white columns anchor the campus. I rather expected to see all the men wearing ascots…Stepping into the  admissions building, one got the sense that Elon University works like a well oiled machine. The staff was extremely welcoming and our very enthusiastic guide, Alicia, was charming and an excellent represtative for the University.
Julie: I love the architecture- love the white columns. The dorm rooms were a little small, but I like the free cable. This is a great school for communications majors. Close to Target, but still in a quaint town area.
Humoody: I'm going here. In the spring they bring out the  big water toys and giant slip and slide.
Mr. D.: Our tour guide, Alicia, was good. There is a lot of school spirit and I like the free movie night.
Coco: There is a lot of fun stuff during finals and the rooms are nice.
Miss G.:  I love the free movies on the lawn. I also like the closeness with the  professors and the weekly breakfast with the faculty. I really like it.
After the tour and a bite to eat at Chick-fil-a (my new fast food favorite- great lemonade and sweet tea) we started on our seven hour journey to Chattanooga via I-40W and US-74W through the North Carolina side of the  Smoky Mountains. Beautiful. Forests, rivers, hollows, ruby mines. The kids did pretty well because we separated Humoody and Coco. It was late when we got to Chattanooga and the nearest place to eat was a Hardees, so we ate there.  Now, truly I know that most Tennesseeans have all of their teeth.  But, you have to understand, that up until this point, most of my exposure to Tennessee is what I learned from Hee Haw, Hannah Montana and Dolly Parton- all good things, mind you, but a lot of people with missing teeth. So, wouldn't you know it -the first two Tennesseeans we met, both ladies, and unrelated,  were missing a front tooth. Oh my! However, it must have been some weird alignment of the stars, because subsequently all the Tennesseeans  had teeth (except for the shirtless, scary man in overalls at the Waffle House). We stayed at the  Cummings Highway Hampton Inn, which I would not recommend.
We took off late the next morning for Sewanee – The University of the South, about an hour drive from Chattanooga up I-24W. We had time to spare so we decided to explore Winchester, Franklin County seat and the nearest town to Sewanee to the west, population 7,876. There was not a whole lot going on in Winchester. There was a nice town square that was dominated by a store called Hammers which had a bit of everything- it seemed to be a mixture of salvage stuff and new stuff and lots of it – fabric, fur ear flap winter hats from russia, toys, hair accessories, dresses, puppets, lots of camo gear……At this point Aunt Julie was perturbed about the lack of shopping opportunities for her niece near Sewanee and especially upset that there did not seem to be a Target around. Back to Sewanee we went and ate just outside of campus at a great little restaurant called Shenanigans. It was so hot, that Julie and Miss G. did the information session and tour alone, while I kept the kids occupied with frozen yogurt.
Sewanee – University of the South:
Private-episcopalian- 1,420 undergraduates
Male:Female – 48%/52%
student/ faculty ratio: 10:1
professors with terminal degree: 99%
average class size: 18
freshman retention rate: 90%
6 year graduation rate: 77%
study abroad: 40%
avg. % students who stay on campus on weekends: 90%
% students living on campus: 93%
2010-11 Applications: 2.764
Acceptance rate: 68%
SAT average(middle 50%): 1160-1360 critical reading & math
Academic GPA: 3.62
US News Ranking: #32 National Liberal Arts Colleges
2010-2011 tuition/room/board/fees: $41,518
Sewanee is located on 13,000 acres on the magnificent Cumberland Plateau.  It is not near a city, in fact it might be described as a little remote. The stone English Gothic buildings and surroundings are breathtaking – like a little bit of Oxford plunked down in the wilderness. Students dress up here- I guess, no northface jackets and jeans at football games, and professors wear their Harry Potteresque robes to class. It is steeped in tradition – Oxford and Cambridge donated the first books to rebuild Sewanee's library after the Civil War. After the tour with Kate, this is what Julie & Miss G. thought:
Julie: I love it. I'm okay there is no target around. I think Miss G. should go here.  I think Humoody should go here, too, as it is very accessible for blind people. The buildings are beautiful, all classes end by noon, there is lots of outdoor recreation happening and you can rent the equipment for free. A lot of faculty live on campus which facilitates great student-faculty relationships. You can really get back to nature here. I love that it is very service oriented.
Miss G.: I like the close relationships students have with their professors here. I like the Harry Potter robes and Honor Code. I like that they really help you get internships and the school pays you for your internship. There seems to be a lot of medical internships (which is what she is interested in). The biology department seems good. I really like it.
Coco: It's really fancy and the frozen yogurt is good.
Then, off to Nashville we went. It is about one and a half hours from Sewanee. We stayed at the Courtyard Marriott Vanderbilt which was very nice and about a ten minute walk from Vanderbilt University.  That night we ate mexican food at Mamacitas restaurant near campus.  The next day was so hot, Julie and I took Miss G. by ourselves to the Vanderbilt information meeting and tour and left Mr. D. at the hotel in charge of Humoody and Coco.
Private– 6,879 undergraduates (5,835 grad students)
Male:Female – 48%/52%
student/ faculty ratio: 8:1
professors with terminal degree: 97%
average class size:
freshman retention rate:97 %
6 year graduation rate: 91%
study abroad: %
avg. % students who stay on campus on weekends: %
% students living on campus: 91%
2010-11 Applications: 21,811
Acceptance rate: 20%
SAT average(middle 50%): 1360-1530 critical reading & math
Academic GPA: 3.75
US News Ranking: #17 National Universities
2010-2011 tuition/room/board/fees: $59,248
Vanderbilt was in a very nice area of Nashville. This campus, too, was very beautiful.  Romantic red brick buildings, medieval in inspiration abound. Seemingly ancient trees grow everywhere. The information session was very crowded because a lot of kids want to go to Vanderbilt. The admissions officer and our tour guide, Luke, both emphasized that there is more to Nashville than country music. People are still welcomed at Vanderbilt even if they don't like Johnny Cash.  Like the previous schools, the preppy look seemed to rule- polo shirts, khaki shorts and boat shoes for boys!  One nice thing here is that each entering freshman class lives together in the ten Houses of The Ingram Commons and they have their own really neat commons center to eat at, exercise at, socialize, etc.
Julie: Beautiful grounds, amazing trees, really nice dorms. I really love that a lot of research is going on.  The Peabody school of education and human development is awesome.
Miss G.: I really liked the dorms and that the self healing wall covering(you can tack or nail into the wall with no damage being done) installed in the rooms was designed by a Vanderbilt student. I like that you can use your meal card in various restaurant off campus. I really like it.
After the tour, which was in 100 degree plus weather plus humidity we picked the kids up and headed to Arnold's Country Kitchen, famous for its meat and three meals. Now, we hadn't heard of a meat and three restaurant, but they are all over Tennessee.  This is how it worked at Arnolds: You grab a tray like you would in a school cafeteria. You get in line. The first guy behind the counter asks, "What do you want for sides?" On Thursday, the day we went, the choices were: green beans, turnip greens, mashed potatos, fried green tomatoes, mac and cheese, pinto beans, creamed corn and small salad.  You pick three of these. The next guy asks, "What meat?". Your choice is roast beef, chicken livers and rice, country fried steak or fried shrimp. You can also grab a slice of chess pie (which I did) or chocolate pie (which Julie did) while you're in line.  You finish up by getting a sweet tea or lemonade, paying at the register and then finding yourself a table. Coco spilled her big drink as we sat down and they were very gracious cleaning it up. I absolutely loved it – southern country cooking at its calorie laden best.
The next day we took a road trip south of Nashville aiming to get to Fayetteville along US-31. We traveled through the affluent suburb of Brentwood, which has amazing homes, to Franklin. We stopped in Franklin to visit the many adorable shops and look at the fabulous historic buildings. We skipped the civil war stuff, but I hear it's great ( Carnton Plantation, Carter House , Battle of Franklin site). There is only so much you can do with a six year old, eight year old, thirteen year old and seventeen year old in one hundred degree plus weather. Back on the road we headed to Spring Hill to visit the 1855 antebellum mansion, Rippavilla Plantation. The kids kind of questioned why they would want to see a house built by slaves for slave owners…..I gave a pat answer about appreciating the architecture, but I'm still thinking on this one. We also visited the one slave cabins left standing, which was about a mile down a rutted dirt road, and then got back on US-31 heading for Columbia.  Columbia is home to many antebellum homes which we drove around and looked at.  By this time the kids were ready to head back to Nashville and we never quite made it to Fayetteville. I must now offer a warning to all who may travel through the south. Do not stop at a Waffle House.  This was our one big mistake on this day trip.  We kept seeing waffle houses everywhere and thought we should try one since they seemed very popular and I do totally dig waffles. I, of course, ordered a waffle, which came with a packet of margarine and was crispy as a potato chip. Julie, of the size zero dresses, of course ordered a salad.  The salad of iceberg lettuce was topped with a torn up slice of american cheese…Live and learn.
Next up was Memphis.  We took off for the three hour drive on Saturday morning expecting to stop at the much heralded Loveless Cafe for lunch. The food must be good because it was an hour and a half wait, unfortunately the hungry children couldn't wait that long so it was on to plan B- The Beacon Light Tea Room in Bon Aqua. There, delicious biscuits awaited us at this seventy five year old restaurant also known for its country ham, fried chicken and ice box pecan coconut pie. It  was kind of like a sit down meat-and-two: you picked out your main type of meat and then got to choose two sides.  The side choices were baked potato, hashbrown casserole, steak fries, french fries, green beans, corn, fried okra, apples,tossed salad and mashed potatoes. I chose fried shrimp with hashbrown casserole and green beans. Good choice. We each had about 5 biscuits (they were good, but kind of small) and ended the meal with the decadent ice box pecan coconut pie, which I promise to recreate at a later date.
In Memphis we splurged and stayed at the Peabody Hotel.  That's the hotel with the ducks that parade across the lobby twice a day to and from the fountain they play in. Memphis is known for barbeque, but we didn't have enough time to try all the restaurants I wanted to.  We made it to Central BBQ and Interstate BBQ, but didn't make it to Paynes BBQ or Rendezvous BBQ or Neely's BBQ.  Memphis knows how to cook pigs. We also made it to Gus's World Famous Fried Chicken which was finger lickin' good. Julie actually ordered a whole sweet potato pie and ate some.  She may be a size 2 now.It was good.
On Sunday we took a road trip to Holly Springs, Mississippi to see the antebellum houses and Oxford, Mississippi to see the town, Ole Miss and William Faulkner's home. Oxford is about an hour and a half from Memphis.  For a minute, Julie and I considered retiring to Holly Springs where for $60,000 one could buy an adorable 1916  2,000 sf bungalow in the historic district in town….Then it was off to Oxford, which was a gorgeous little town with another cute town square. Being Sunday most everything was closed.  Luckily, the Bottletree Bakery was open.  It was delicious. I have already recreated the french potato salad I had there.  Next on the list- the apple and cream filled brioche. Okay, my mouth is watering just thinking about it. Then we drove through Ole Miss. I now know why Mrs. Tuohy wanted Michael Oher to go here in The Blind Side movie. Some ugly things have happened here, but it was absolutely beautiful. We talked about James Meredith integrating Ole Miss and then it was off to see the Ole Miss chapter house of Julie's sorority, Chi Omega. Yes, Julie still looks like a sorority girl to this day. I think it's because she doesn't eat enough. We also saw Rowan Oak, Faulkner's house, which was a fun thing to do as Miss G. has read a couple of his books this past year. The docent was very good and tried to convince Miss G. that Ole Miss was the place for her……
Of course, our real mission in Memphis was to see Rhodes College. Miss G. and I did this alone, as the others stayed to see the ducks.
Private-presbyterian- 1,712 undergraduates
Male:Female – 42%/58%
student/ faculty ratio: 10:1
professors with terminal degree: 97%
average class size: 13
freshman retention rate: 85%
6 year graduation rate: 78%
study abroad: 65%
avg. % students who stay on campus on weekends: 90%
% students living on campus: 74%
2010-11 Applications:5,361
Acceptance rate: 49%
SAT average(middle 50%): – 1190-1360 ccritical reading & math
Academic GPA: above 3.5
US News Ranking: # 47 National Liberal Arts Colleges
2011-2012 tuition/room/board/fees: $45,440
Rhodes is in a very nice part of Memphis near the zoo. Again, the gorgeous collegiate gothic stone buildings reassure one that their child will be well educated in this stately place. There is a lot of fun to be had and pig to be eaten in Memphis.  Our tour guide, Jonathan was a great representative of a Rhodes student and could speak eloquently as to why he chose Rhodes.  Rhodes is big on community service and internships – a big plus for us.
Julie: Well, Miss G. can go here as I made a good friend on the plane going home, Jennifer, who lives in Memphis. She says Rhodes is a good school and if Miss G. goes here she can be her emergency go-to person.  We're facebook friends now, and Jennifer may come to visit me.
Miss G.: I really like the biology program.  I also like the connection to St. Jude's Children's Research Hospital.  Rhodes students can intern there as undergrads. The dorm room we saw was a little smelly…..The Memphis location is great.  I really like it.
Well, Miss G. loved them all, so it was back to Washington to ponder the choices. We all loved Tennessee and the people.  Julie wanted me to be sure to mention that Tennesseeans were very friendly, cordial, and well mannered people.  Where we live Humoody sometimes gets a lot of ugly stares and comments because his facial disfigurement. In Tennessee, people did not stare and were so friendly and welcoming to this extremely smart and funny little fellow.
Meanwhile, I picked up a great cookbook at Square Books in Oxford titled The Southern Foodways Alliance Community cookbook by Sara Roahen and John T. Edge. It's a good one. In commemoration of our trip I made my first chess pie from a recipe in it from Martha Foot of Pluto Plantation, Mississippi. Enjoy!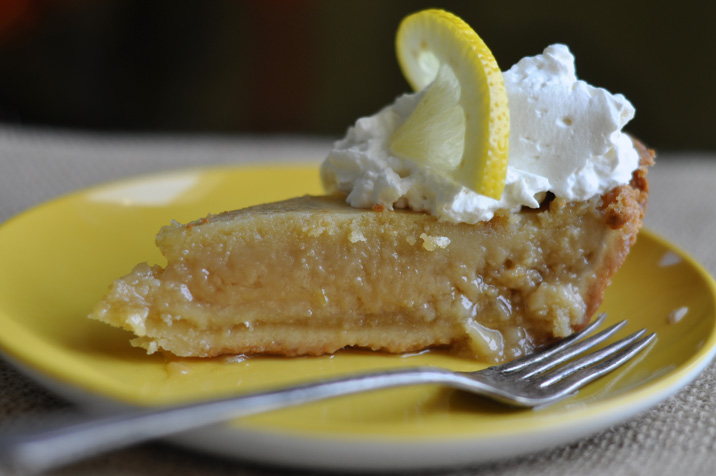 Sweet Tea Lemon Chess Pie
Ingredients:
3 oz.

cream cheese, at room temp.

1/2 cup (1 stick)

butter, at room temp.

1 1/4 cup

flour

1 cup (2 sticks)

butter, at room temp.

2 cups

sugar

1 lemon

zest of

8 large

egg yolks

3/4 cup warm

freshly brewed strong orange pekoe tea (like red rose or lipton)

1 T.

vanilla extract

1 t.

apple cider vinegar

1 T.

fresh lemon juice

2 T.

flour

2 t.

cornmeal
Cooking Directions:
For the crust, use the first three ingredients. Beat the cream cheese and butter until well combined. Add the flour and mix on a low speed until a ball forms. Pat the dough evenly into a 9 inch pie pan, building up a thicker top edge. Freeze while preparing the filling.
For the filling beat the 2 sticks of butter until light and fluffy. Gradually beat in the sugar, then the zest. Add the egg yolks one at a time mixing well after each addition. Slowly add the tea, vanilla, vinegar and lemon juice. Add the flour and cornmeal. The mixture may look curdled – no big deal.
Preheat the oven to 350 degrees. Pour the filling into the frozen pie shell. Bake until only a quarter sized area in the center jiggles slightly when the pie is shaken gently. The original recipe says this should happen at about 50 minutes. However, it took my pie 82 minutes. So, keep checking. I also had to tent foil over mine as it was getting too brown.
Chill at least 2 hours before serving. I served mine with a dollop of freshly whipped cream.