We just got back from several days out at the beach house on Whidbey Island. We share it with my family, so we get to use it every five weeks. That works out to two weeks out of the summer. Unfortunately, we don't really use it the rest of the year since we are too bogged down with school and sports, but my parents still get to enjoy it then. According to my children, it is not the same out there without the Hallbergs to liven things up.  For years, our friends, the Hallbergs, have joined us for one of our weeks each summer. They joined us in July, but, unfortunately, not last week. Coach Diane Hallberg leads us in pickleball tournaments and games of H-O-R-S-E, as well as whipping up down home delights such as Hot Dog Casserole.  We talk of old times and how underrated arranged marriage is (as we each have a rising freshman- shhhhh- don't let Mr. D. know). The kids beachcomb together and then they make Mr. D. row them out to set crab pots. A couple of the crab pots yielded a bountiful harvest of crabs. So, we had our fill of fresh crab & froze the rest to use at home. Luckily, for the adults, most of the children prefer catching to eating this delicacy.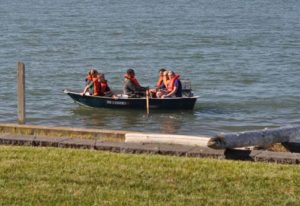 Serendipitously, when we got home our local paper, the Everett Herald had a recipe for Seattle's Chandler's Crabhouse whiskied crab soup in Judyrae Kruse's Forum column. Oh, I love that woman.   A perfect recipe to use up some crab. The Wilsons are not big drinkers, so I had to go to the store looking for whiskey. I thought I could buy one of those cute little bottles you see on airplanes since I only needed 2 teaspoons of it, but alas, no sign of the little bottles so I bought the cheapest bottle I could find.  This recipe also provided some excitement with the lighting of the brandy. Yes, my eyebrows have grown back. I would advise not looking into the pot during this step. Overall, a delicious soup!
I still have some crabs in the freezer and I think I will soon be making Nordstom's Crab Bisque for a battle of the bisques.
Chandlers Crabhouse Whiskied Crab Soup
From July 11, 2012 Everett Herald
Ingredients:
1 whole (2 to 2 1/2 pounds)

Dungeness Crab, cleaned with meat removed (save shells)

1 quart

crab stock (see below)

1/2 cup/ 2 T.

butter

3/4 cup

flour

3 cups

whipping cream

juice of

1 lemon

dash of

liquid hot pepper seasoning

1 T.

worcestershire sauce

1/4 t.

old bay seasoning

1/4 t.

ground white pepper

2 t.

whiskey

1 T.

dry sherry

Salt to taste

**********crab

stock************

shells

from one dungeness crab

2 T.

olive oil

1/4 cup

carrots, peeled and chopped

1/2 cup

onions, peeled and chopped

1/4 cup

celery, peeled and chopped

1/4 cup

brandy or cognac

1 quart

cold water

2 cloves

unpeeled garlic, crushed

1

bay leaf

1 t.

dried tarragon

4 T.

tomato paste
Cooking Directions:
For stock: Heat olive oil in heavy stock pot; add shells and veggies and brown lightly. Add brandy and ignite. After flames die down, add water, garlic, herbs, and tomato paste. Bring to boil and simmer on low for 2 to 3 hours. Skim off scum from the top. Strain & refrigerate until ready to use.
For Soup: In pot melt 1/2 cup butter over medium heat. Reduce heat to low. Add the flour all at once and stir constantly until mixture is blond colored – about 5 minutes.
Add crab stock a cup at a time, whisking thoroughly. Bring to boil, reduce heat and simmer 20 minutes.
Add whipping cream, lemon juice, pepper seasoning, worcestershire sauce, old bay and white pepper. Bring back to simmer for 10 minutes.
Add whiskey, sherry, 2 T. butter and crab meat and cook 1 minute to heat through.
Season with salt and serve.