My friend, Paige, is one of those wonder women- she works full time as an elementary school math specialist, she's a wife (which you know is never easy..), she's a mother of small children, she's kind and thoughtful, she's pretty as can be and always very well-groomed..and she's a fabulous cook.  Yes, I am a total under-achiever next to her, but she loves me anyways.  It is good to have friends that can be one's role models and Lord, knows I need role models. I first tasted her chicken enchilada recipe when I was housebound with an injury a few years ago and she took pity on me and brought a pan over.  Needless to say, I have feigned sickness many a time to get her to make them again. Okay, that was an exaggeration – maybe  only once or twice.  She did take pity on me and finally gave me her recipe and I am forever grateful.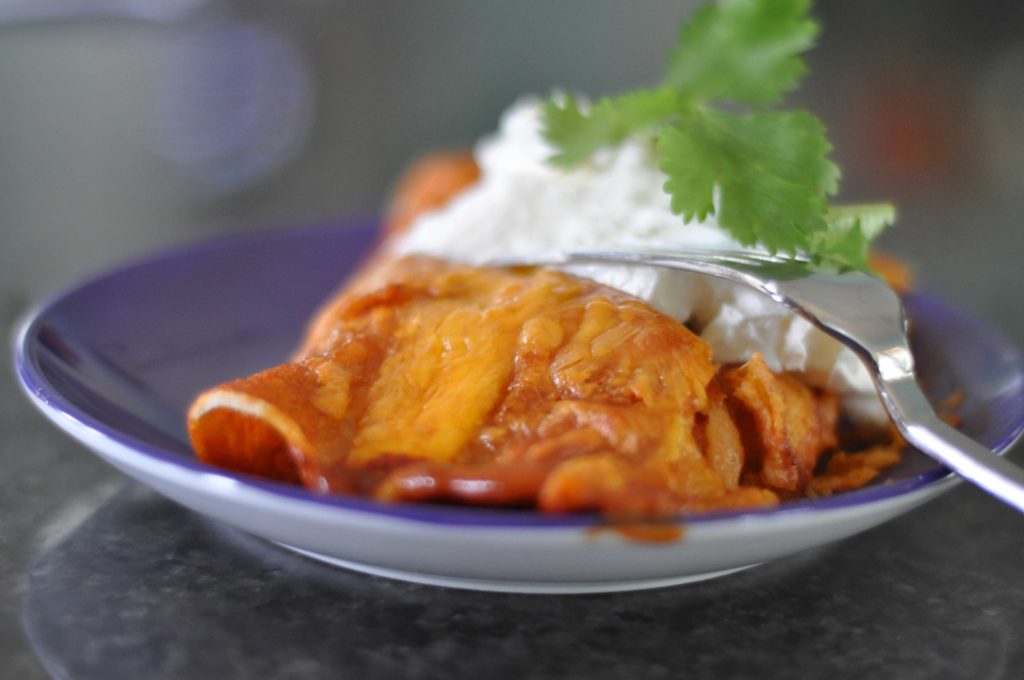 Chicken Enchiladas Delicioso
Ingredients:
4 big

chicken breast (with bone & skin)

I meant to count the last time I made them…I think 30 at least

corn tortillas

6 T.

butter

4 T.

flour

4 cups

water

1 t.

garlic salt

4 T.

chili powder

15-16 oz can

tomato sauce

1 large

onion, chopped

quite a bit of

shredded cheddar cheese
Cooking Directions:
Bake chicken in over with oil, salt & pepper on top. 350 degrees for about an hour. Cool. Shred.
Saute onion in 2 T. butter until soft.
Make the sauce sort of like you would a white sauce. Melt 4 T. butter, stir in flour and whisk in water as sauce thickens.
After it thickens, add tomato sauce, garlic salt and chili powder to sauce.
Combine chicken, onions and 2 cups of sauce.
Take a tortilla, place a big tablespoon or two of chicken mixture in middle, top with a big pinch of cheese and roll up and place in greased baking pan with the seam side down. Repeat until pan is full. Don\'t worry if they rolls crack – they will still look and taste good after baking. Cover the enchiladas with a layer of sauce, not a thick layer, but enough to cover them. Top the entire pan with cheese.
Bake at 350 degrees for 30-40 minutes.
This makes 2 big (11×17) pans of enchiladas.