I first encounted baked french toast at my church's women's breakfast.   I thank God for Linda Mueller who loving prepared it and for the baked french toast itself.  It has now become a staple in our house for special birthday breakfasts, PTO teacher breakfasts and for Mr. D, who at 13 can single handedly eat a whole large pan of it without any ill effects.  The other thing I love about it is that is is super easy – always a plus in my book.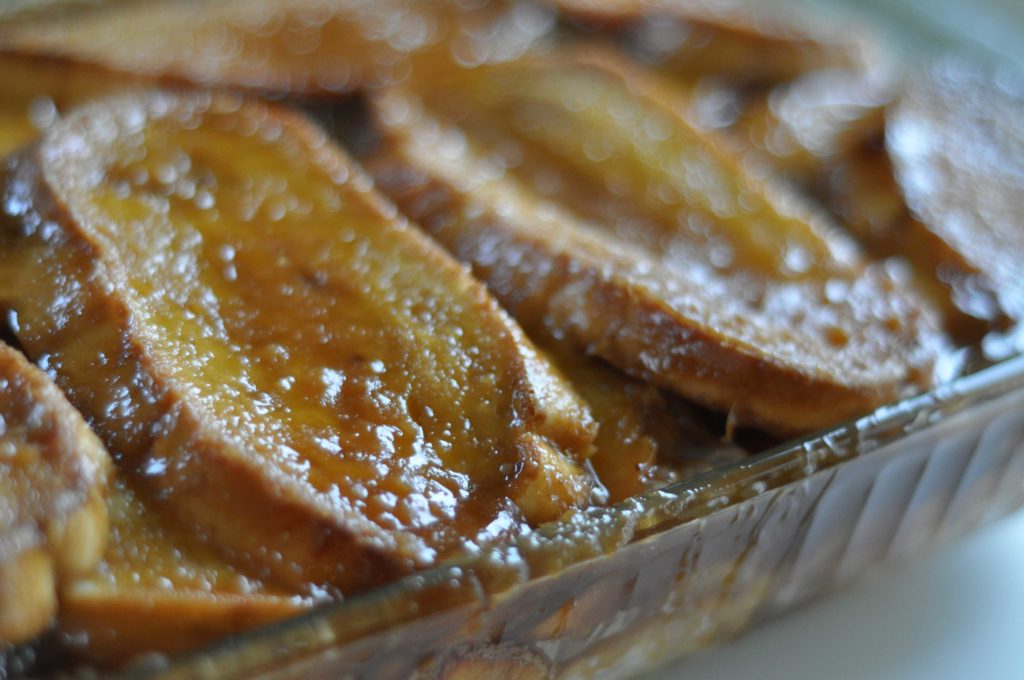 Baked French Toast
Ingredients:
1- 1 pound loaf

French bread, cut diagonally in 1 inch slices

8

eggs

2 cups

milk

1 1/2 cups

half and half

2 t.

vanilla

1/2-1 t.

cinnamon

3/4 cup

butter

1 1/3 cup

brown sugar

3 T.

light corn syrup
Cooking Directions:
Butter a 9×13 baking dish (I find that this recipe makes more than one pan – so go ahead & do two if you find the bread fits into two pans)
Arrange the slices of bread in the bottom. In a large bowl beat together eggs, milk, cream, vanilla and cinnamon. Pour over bread slices. Cover and refrigerate overnight.
The next morning, preheat oven to 350 degrees. In a small saucepan, combine butter, brown sugar and cornsyrup; heat until bubbling. Pour over the bread/egg mixture.
Bake uncovered for 40 minutes.
Say a little prayer of thankfulness.