This is one of those recipes that came about because of serendipity.  One week a friend of mine asked me to make a salad for the senior citizen luncheon at our church. I was so on top of things I made a big batch of chicken ziti pasta salad the night before the luncheon and called my friend to deliver it to her. "Well", she says kindly, "the luncheon is next week".  Okay, this is the story of my life lately, if I don't write dates and things down right away  and write it down correctly and look at it daily to keep remembering I do things like make a huge salad a week before it is needed.  Well, really, it was no problem to make another salad the next week, but since I am bored easily it needed to be a different type.  I thought, I will make a tabbouleh salad.  Well, that was before I realized that cracked bulgar is a sparse commodity in the northwest (or at least the store I shop in) and it was going to be one expensive salad.  I had quinoa at home so I decided to substitute the quinoa for the cracked bulgar and it worked out deliciously.  I also added chicken to make it a little heartier, but that is purely optional.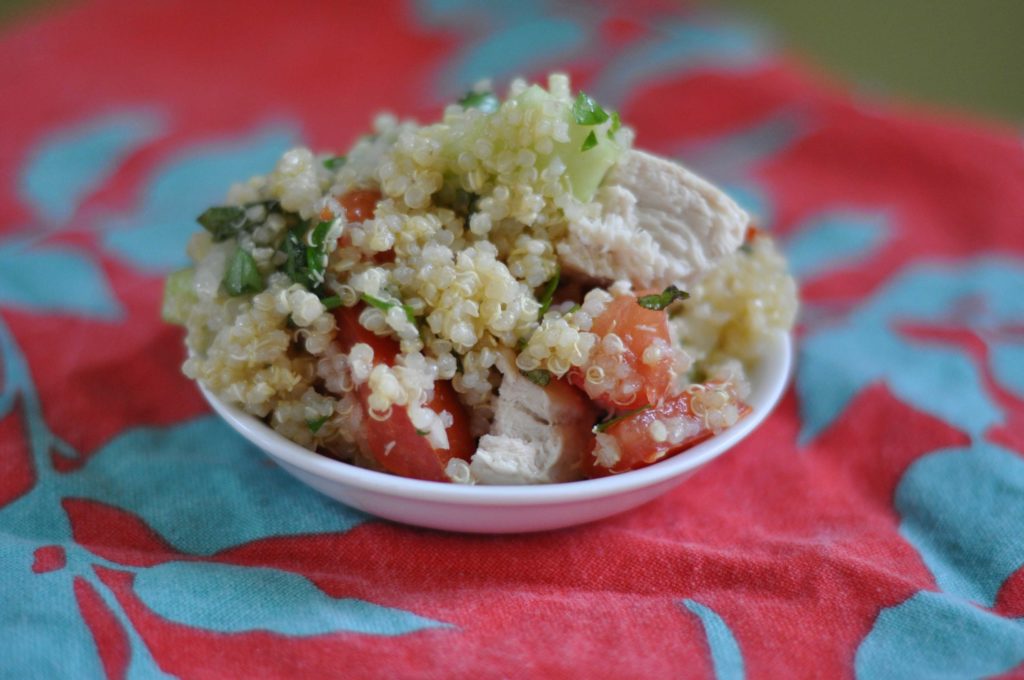 Middle Eastern Quinoa Salad
Ingredients:
2

Chicken breasts (bone in, skin on), optional

3 cups

quinoa

2 bunches

italian parsley

1

onion, chopped

10

green onions, white part only chopped

16

roma tomatoes, seeded and chopped

2 bunches

mint, stems discarded and leaves chopped

Dressing:

3 cups

olive oil

1 1/2 cups

lemon juice

kosher salt to taste

ground pepper to taste
Cooking Directions:
Prepare the quinoa per the directions on the package. Drain and cool.
Roast the chicken with olive oil, salt and pepper at 350 degrees for an hour. Cool and chop up meat.
Add the parsley, onions, tomatoes, mint and chicken to the quinoa and mix.
Dressing: whisk together the lemon juice and olive oil, add salt and pepper to taste.
Add the dressing to the quinoa and mix.
This salad keeps well in the refrigerator.