What would we do without the Junior League, I ask you.  Those Junior Leaguers are out there doing good deeds and putting out the best darn cookbooks ever.  Unfortunately, I don't think I am Junior League Material – I just don't think they take potato gun shooters with messy houses that still own converse tennis shoes from 1987.  But, I can live vicariously through their cookbooks and I do. I have many Junior League cookbooks from everywhere, but my favorites are  the Seattle Junior League Cookbooks.  I have their Simply Classic and Celebrate the Rain cookbooks and they are wonderful.  My friend Molly, who is Junior League Material, told me about the following dish found in Celebrate the Rain.  I made it and it has become Miss G.'s favorite chicken dish. It can be either an appetizer or a main dish and it is easy to make because you can prepare the chicken and sauce the night before and just bake the chicken when you need it.  The original recipe calls for cut up chicken breasts, but I typically use chicken tenderloins.  It is also a great dish if you need to bring something super snazzy to a party. The recipe makes 8 to 12 servings.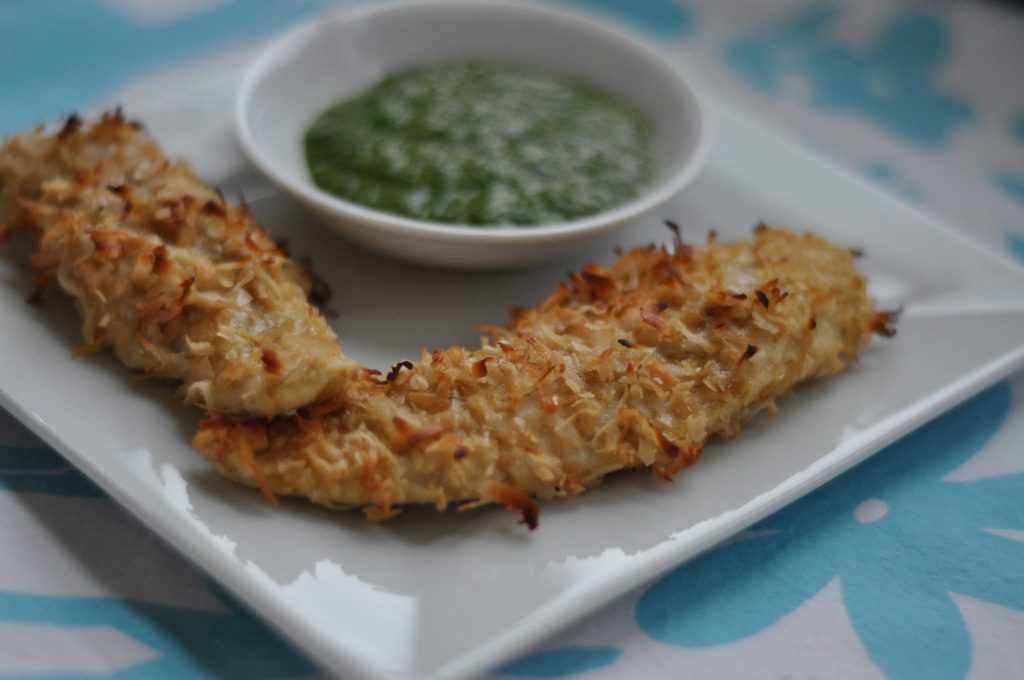 Coconut Chicken Bites with Cilantro Sauce
Ingredients:
3 cups

shredded coconut

2 t.

ground cumin

3/4 t.

ground coriander

1/2 t.

cayenne pepper

1/4 t.

salt

pinch

freshly ground pepper

2 pounds

boneless, skinless chicken breasts, cut into 1 inch pieces or full chicken breast tenderloins

2

eggs, lightly beaten

Cilantro Dipping Sauce:

1 cup

cilantro leaves, lightly packed

3/4 cup

green onions, chopped

1

jalopeno chile, stemmed, cored and seeded (I never add this as it is too hot for me)

2 T.

lemon juice, fresh

1/2 t.

salt

1/2 t.

pepper

1/2 t.

cumin

1/4 t.

tumeric

1/3 cup

extra virgin olive oil
Cooking Directions:
For the sauce, combine the cilantro, onions, jalapeno if using, lemon juice, salt, pepper, cumin and tumeric in a food processor and blend until finely chopped. Slowly add the olive oil while running the processor and process until smoothe. Refrigerate until ready to serve.
Preheat the oven to 325 degreens. Toast the coconut by spreading on a large baking sheet and placing in the oven. Watch it and toss it frequently as it burns easily. It will take about 5 minutes and it puts off a weird smell, too. When done chop it up coarsely and put in a shallow bowl.
Combine the cumin, coriander, cayenne, salt and pepper in a large bowl and mix. Add the chicken and toss to coat. Add the eggs and toss to coat again. Then dip and coat the chicken, one at a time, thoroughly in the coconut. Spread the chicken out on 2 greased cookie sheets. Cover and refrigerate for one hour. (You can leave them in overnight if you like.)
Bake at 400 degrees for about 12 minutes. Can be served warm or at room temperature alongside the cilantro sauce.
Enjoy!