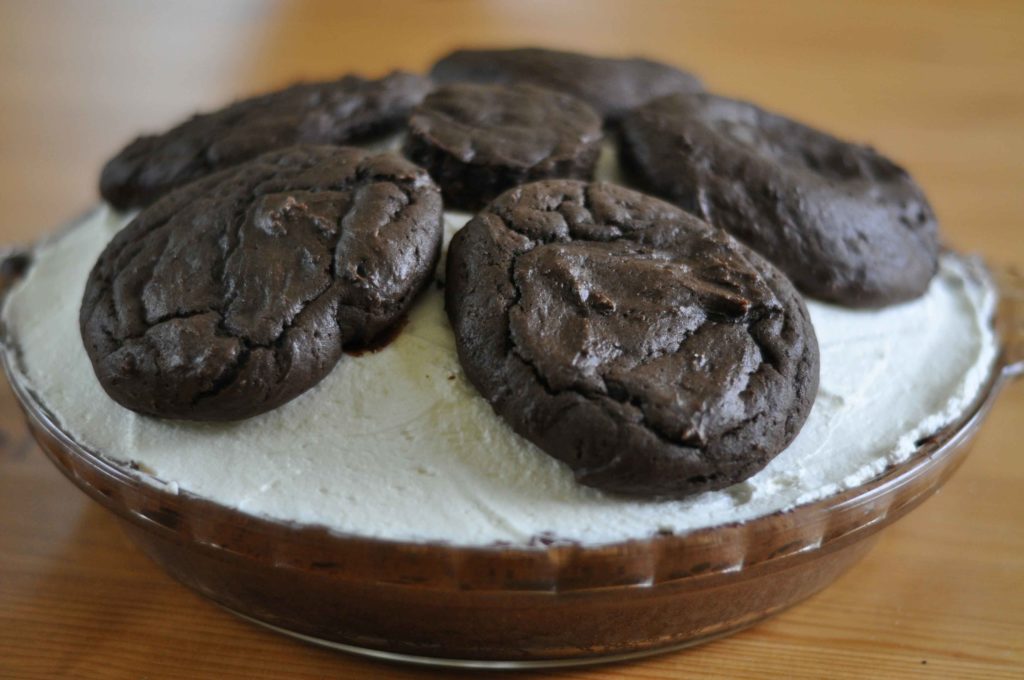 My fabulous tennis team had an end of the season party this past week, so I decided to try out a few different pies on them since they are such good sports.  I've been thinking about Whoopie Pies for awhile now, contemplating why they are called "pies" when they are really more of a cake-like cookie.  I thought it might be a good idea to turn them into an actual pie so they actually live up to their name.
A little background now – Maine and Pennsylvania both claim to be the home of the Whoopie Pie, but Maine took it a step further and declared it their official state treat. The Wilsons decided to vacation in Maine a few years ago so we could eat lobster (and whoopie pies).  Crab, we have aplenty around here, but lobster is foreign,exotic, extremely expensive and very tasty to us, so I personally made it a goal to eat lobster three times a day.  Sadly, I came close but did not succeed.  One day, I will try again. But, in the meantime, I lovingly remember our time in Maine everytime I open my cookbooks I got there.  In my Maine Course cookbook is a recipe for Whoopie Pies which I have loosely based my "Whoopie Pie" Pie on.
I think the tennis team liked it.  Jill and Gail, who both hail from the east coast said it reminded them of "Devil Dogs" – a treat they miss out on living in the Pacific Northwest.  I brought the leftovers home and the Lieutenant ate it all (and rated it highly) so the youngsters are still bemoaning the fact they didn't get to try it.  However, I had extra chocolate cake cookies leftover from the pie production which they happily devoured.  So, here it is…
*Whoopie Pie* Pie
Ingredients:
Crust

*********************************

1 cup

butter

2 cups

sugar

1

egg

2 cups

milk

2 t.

vanilla

2 cups

flour

2 t.

baking soda

1 cup

cocoa

3/4 t.

baking powder

Filling

***********************************

8 ounces

cream cheese, softened

2 T.

milk

1/2 cup

sugar

2 cups

whipped cream

1 t.

vanilla
Cooking Directions:
Crust:
Preheat the oven to 375 degrees.
Cream butter and sugar until fluffy. Add egg, milk and vanilla and mix until smooth.
Add dry ingredients and beat until smooth.
Pam a 9 inch pie pan.
Spread enough batter to cover bottom and sides of the pie pan in a layer as thin as you can get it – it will not be very thin and it will try to fall down. Just keep trying to push it into place. Bake for 10-15 minutes. When done it will be puffy and you can try to push the bottom part down.Cool.
You will have a lot of left over batter and with this, drop by well-rounded tablespoons onto an ungreased baking sheet and bake for 7 minutes. These extras will go on top and can be munched on by you.
Filling:
Beat whipping cream until stiff peaks form.
Beat together cream cheese, milk, sugar and vanilla until fluffy.
Fold cream cheese mixture into the whipped cream.
Spread filling in the pie crust. Top with extra cookies – the ones you have not eaten.
Chill well before eating.