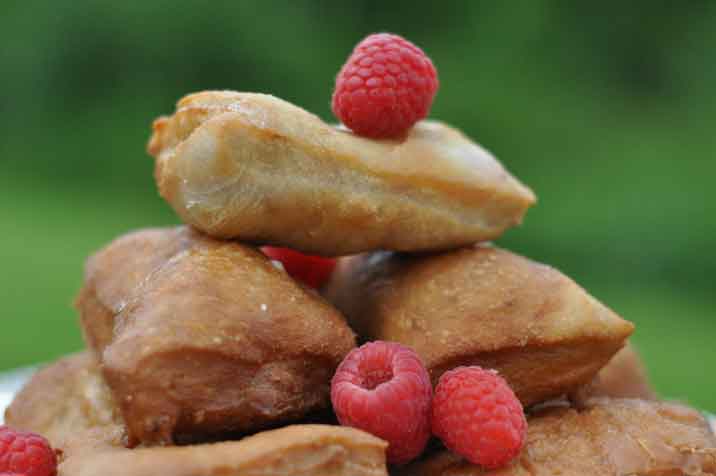 I have wanted to try a beignet for a long time. A beignet is a type of yeasty doughnut they eat in Louisiana. Food made with flour and yeast holds a special place in my heart (and stomach). With my new deep fryer, I was roaring to go. I had my recipe from Southern Living. I also had a pint of fresh raspberries on hand that I decided might be a fine addition.  The beignets were good, but not quite what I expected.  They were great fresh from the fryer with a steaming cup of coffee, but they weren't very sweet.  This doesn't mean they won't be sweet enough for you.  I am aware that my need for sweetness is a little over the top…..Traditionally, beignets are dusted with powdered sugar.  I did this to the first few, but they weren't quite sweet enough for me, so I covered the rest with a glaze made of lemon juice and powdered sugar.  Aren't they pretty?
Beignets
Ingredients:
1 envelope

active dry yeast

1/2 cup/ 1 cup

water

1 t./ 1/2 cup

suger

1 cup

evaporated milk

2 large

eggs (slightly beaten)

1 t.

salt

1/4 cup

shortening

7 cups

flour

powdered

sugar
Cooking Directions:
Combine yeat, 1/2 cup warm water, and 1 t. sugar in bowl of kitchen aid mixer; let stand 5 minutes.
Add milk, eggs, salt and 1/2 cup of sugar to the mix.
Microwave 1 cup water until hot, stir in shortening until melted. Add to yeast mixture.
Add 4 cups of flour to yeast mixture and beat at low speed until smooth. Gradually add 3 more cups of flour, beating until a sticky dough forms.
Transfer dough to a greased bowl and grease the top and cover. Refrigerate for 4 to 24 hours.
Roll out on a floured surface to 1/4 inch thick. Cut into 2 1/2 inch squares.
Fry dough in 2 to 3 inches of oil at 360 degrees for 2 to 3 minutes on each side until golden brown.
Drain on a wire rack and dust with powdered sugar (or a glaze of lemon juice and powdered sugar)
This make a lot of beignets. You can keep them warm in a 200 degree oven for up 30 minutes.
Grab that cup of coffee and enjoy!