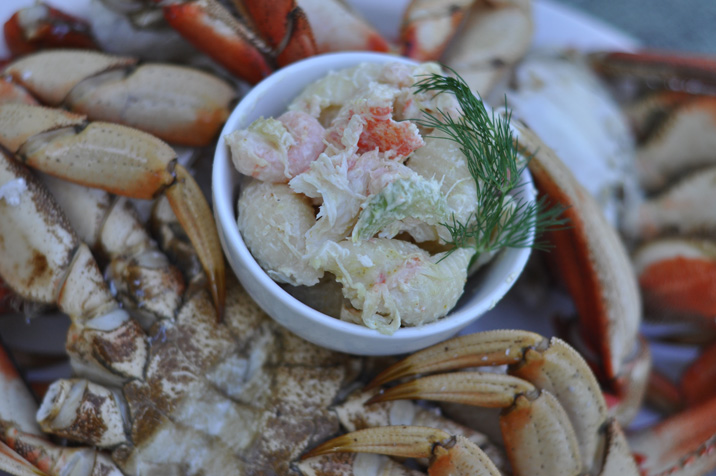 I needed to have a pasta salad for this year's Fourth of July menu. I also wanted some seafood as we were out at the beach this year. I could have gone with the tried and true tuna macaroni salad, but this  year I decided to take a walk on the wild side.  I had some crab in the freezer, so I decided to go with some kind of crab pasta recipe.  I found an intriguing one in my 1981 Cooking for Applause cookbook from the backers of the repertory theatre of St. Louis.  It called for flat beer in the dressing, so I found a beer in the fridge, popped it open and poured some out to flatten it.  The kids were out to a movie that night with the Lieutenant and it caused some consternation that night when they came home to an open beer bottle as I am not known to imbibe.  It's probably a really good thing that I don't imbibe…..I was put under the inquisition the next morning and had to explain it was all for the salad.  I actually think the beer imparted a really good taste to the salad. Anyways, here is my adaption of Crab Salade N'Orleans, flat beer and all.
Crab Salade N Orleans
Ingredients:
2 pounds

crab meat

1 pound

shell pasta (small or medium), cooked per box

2 cups

celery, chopped

1 cup

green pepper, chopped

2 cups

mayonnaise

1/2 cup

flat beer

1 T.

lemon juice

1/4 cup

onion, minced

1 1/2 t.(more if you deem necessary)

salt

1 T.

curry powder

1/2 t.

dry mustard

dash

fresh ground pepper
Cooking Directions:
Combine crab, pasta, celery and green pepper in a large bowl.
Combine mayo, beer, lemon juice, onion, salt, curry, mustard and pepper.
Add dressing to pasta mixture, tossing gently.
Refrigerate for 3-4 hours.