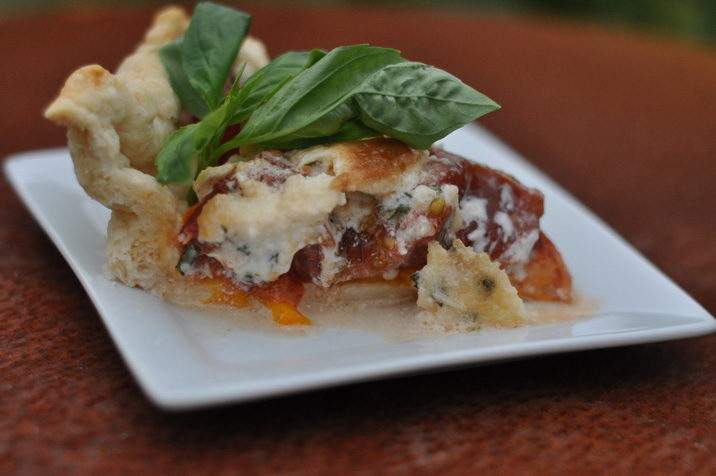 I know I've had a lot of tomato recipes lately….but, can you blame me?  They're just soooo gooood! I made this for the Tuesday night tennis ladies a few weeks ago and I have to say it's a keeper.  I'd never heard of tomato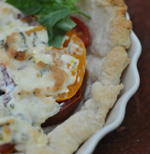 pie before, but, since I'm in my year of pie baking, I thought I should make one.  I found this recipe by Libbo McCollum and Elizabeth Goodwyn in the August, 2011 issue of Southern Living magazine. The sour cream crust is heavenly. The mayonnaise mixture takes on a cheese like texture – the tennis ladies wanted to know what type of cheese it was. My children, who don't like tomatoes, even liked it. The next time I make it, I will probably double the amount of tomatoes and double the mayo/cheese mixture to better suit the hearty Wilson appetites. I can't wait to make this again!
Tomato Pie
By Libbo McCollum/ Elizabeth Goodwyn, Southern Living Magazine August 2011
Ingredients:
1 1/4 cup

flour

2 t.

baking powder

1/2 t.

salt

1/2 cup

shortening

1/2 cup

sour cream

****************

***************

4 medium

tomatoes, cut into 1/2 inch thick slices, I used a couple of different colored varieties

1/2 t.

salt

1/2 cup

mayonnaise

3

green onions

2 T.

fresh basil, chopped

1 cup

parmesan cheese, shredded, divided
Cooking Directions:
Sour Cream Crust: Mix flour, baking powder and salt in a bowl. Cut in shortening with a pastry blender until crumbly. Add sour cream and stir with a fork until combined. Chill for 1 to 24 hours. I did about 15 minutes and it was just fine….
Place tomato slices on paper towels and sprinkle with salt. Let stand 30 minutes and then pat dry with paper towels.
Stir together mayo, onions and basil and 3/4 cup cheese.
Roll out the sour cream pastry and fit into a 9 inch pie pan. Crimp the edges of the crust. Bake for 10 to 12 minutes at 350 degrees.
Remove from oven and sprinkle 1/4 cup cheese over the bottom of the crust. Then place the tomatoes over the bottom. Spread the mayo mixture over the tomatoes.
Bake at 350 degrees for 34-37 minutes. Let cool a little before serving.